PGY 6
Michael Pezzillo, M.D.
Female Pelvic Medicine and Reconstructive Surgery Fellow
Residency: University of Tennessee Health Science Center (UTHSC) Memphis, TN
Nicolina Smith, D.O.
Maternal Fetal Medicine Fellow
Residency: Henry Ford Hospital, Detroit, MI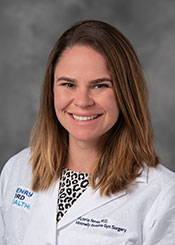 Victoria Arruga Novoa y Novoa, M.D.
Minimally Invasive Gynecologic Surgery Fellow
Residency: Vanderbilt University Medical Center, Nashville, TN
PGY 7
Rebeccah Briskin, D.O.
Female Pelvic Medicine and Reconstructive Surgery Fellow
Residency: Inspira Health Network, Obstetrics & Gynecology