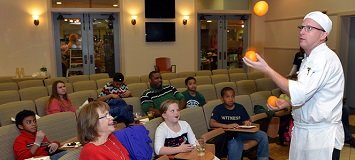 DK kids' field trips aim to teach children how to lead a healthier lifestyle through a commitment to making healthy choices and physical activity – a "learn to grow and grow to learn" initiative. The Chef for a Day/Farmer for a Day program blends together health, education, organic growing techniques and eating habits to lead children to a healthier future. Through this program we host school classrooms and private groups for children ages 6 – 12 whose academic and social curriculum fit our mission and community outreach initiatives. Our resident farmer and DK team lead the program.
This fun and engaging kids' program can be tailored according to the teacher or parent's preference and can include the following "how-to" activities:
Education on healthy habit tracking
Learn to read and understand food labels
Make healthy choices
Learn about pest control and harvesting crops in the Greenhouse
Tastings of organic produce from the Greenhouse
At the end of the kids' interactive field trip, students will leave with a real take-home planting project, 5-2-1-0 materials, as well as a clearer idea of how to make healthy choices and the importance of understanding farm to table practices.
Option 1: Chef for a Day, Farmer for a Day
90-minute interactive field trip
Kids ages 6 – 12 years olds
$10 per child
Healthy Snacks (Baked Kale Chips and Fruit Smoothies)
Option 2: Birthday Parties
2-hour interactive experience
Minimum age of 6 years old
Minimum of 15 children in attendance
$25 per child
Theme of choice
Option 3: Story Time with Trevor
45-minute field trip
Kids ages 3 – 5 years old
$5 per child
Our resident farmer, Trevor, will engage your little ones with story time in the Greenhouse Education Center, bringing back childhood favorites to share with the listeners.


DK Kids' Summer Series
Visit our calendar for upcoming events.
Field Trip Opportunities
Use our field trip request form to start planning your visit