The Bridge Between Hope and History
One of the most striking features of the Brigitte Harris Cancer Pavilion in Detroit is a glass-enclosed pedestrian bridge that spans West Grand Boulevard and connects the Pavilion to Henry Ford Hospital.
This bridge – the Nancy Vlasic Skywalk – is named in recognition of a remarkable $5 million donation made by Robert J. Vlasic to honor his late wife Nancy.
The Skywalk provides fast, easy access to patients and staff moving between the hospital and the Pavilion. The bridge is filled with natural light, extending the Pavilion's calm and healing atmosphere.
The connection between the Vlasic family and Henry Ford runs deep.
Between 1976 and 1987, Robert Vlasic served on the health system's Board of Trustees and was chairman from 1983 to 1987. Recently, the relationship expanded and includes Robert's sons Paul and Rick as trustees, and several family members who have contributed in numerous ways to advance our mission.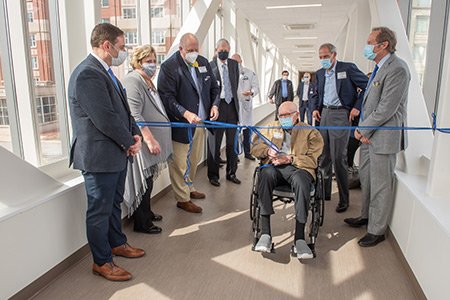 On March 9, 2021, Robert Vlasic celebrated his 95th birthday with his five sons by crossing the Nancy Vlasic Skywalk for the first time. James, Rick, Bill, Michael and Paul Vlasic visited the Pavilion with their father and paid tribute to Nancy's memory.
"There is a special significance to our father's gift in honor of our mother," Paul Vlasic says. "Brigitte Harris and my mother were longtime friends, as were Mort Harris and my father. To have two families, so pivotal in shaping the first 100 years of Henry Ford, also connected in a way that ties to the next 100 years of Henry Ford's delivery of care is truly humbling and very fitting."
With this gift, the Vlasic family bridges the historical significance of Henry Ford Hospital with the hope and promise the Pavilion offers patients and families.
Illuminating Hope
Expert teams in your type of cancer come together in this healing environment.