The Lam Archives was founded in 1976 by Henry Ford Hospital surgeon emeritus Conrad R. Lam. Dr. Lam began his service at Henry Ford Hospital in 1932 where he became an accomplished cardiac surgeon and researcher. Dr. Lam retired from active surgery in 1975, but continued to serve as a consultant at the Hospital. The following year he established the Henry Ford Hospital Archives and Historical Collection in a small office in the Clara Ford Nurses Home.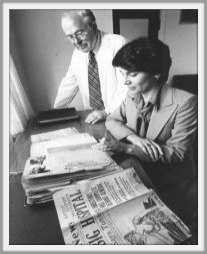 For fifteen years Dr. Lam collected, preserved, and provided access to historical information, photographs, and other materials documenting the history of the Hospital. He was respected and well-liked among Hospital staff and employees and was therefore trusted with their historical treasures. Through his efforts, important documents including the papers of the first Physician-in Chief, Frank J. Sladen, M.D., and a large collection of early photographs were preserved. Dr. Lam became the institutional memory of Henry Ford Hospital, and was considered the authority on its history.
In 2003, thirteen years after his death, the Henry Ford Hospital Archives and Historical Collection was renamed the Conrad R. Lam Archives in honor of its founder. The Conrad R. Lam Archives is now housed in a larger suite in the One Ford Place building, home of the Henry Ford Health corporate offices located minutes away from Henry Ford Hospital.