Henry Ford Wyandotte Hospital has added new outpatient clinics inside the hospital, offering experts in Urology, Heart & Vascular and Cancer Care.
Conveniently located adjacent to the hospital's main lobby, the new clinics feature world-class physicians and state of the art technology:
A new Urology clinic offers general urology, men's health, prostate, bladder and testicular cancer treatment. Our team of board-certified urologists treat concerns such as kidney stones and prostate enlargement, and offer minimally invasive robotic surgery for various urological conditions.
A new Heart & Vascular clinic features additional exam rooms as well as dedicated procedure rooms to treat conditions such as varicose veins.
A newly enlarged oncology clinic features additional infusion stations for patients undergoing chemotherapy, as well as additional patient exam rooms.
Also located near the clinics is the hospital's newly renovated outpatient lab, now nearly twice its previous size.
These new outpatient offerings join other convenient service features introduced to the Downriver area last year, including:
Whatever your health needs and whatever your preference, we have an expert and quality team of Downriver-based physicians to serve you.
Downriver ER experts
If you're facing an emergency or have an urgent health situation, don't delay. Our two Downriver Emergency Rooms in Wyandotte and Brownstown are safe and open for ER care 24/7. We have strict standards in place to protect you from the risk of exposure to coronavirus (COVID-19). Learn more about enhanced safety and the Henry Ford Promise.
Our 24-hour emergency rooms feature expert, specially-trained staff who provide a full-range of services for major to minor emergencies.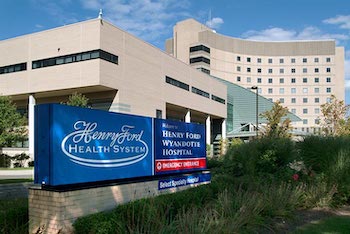 Henry Ford Wyandotte Hospital Emergency Room
2333 Biddle Avenue
Wyandotte, MI 48192
This hospital-based emergency room provides advanced life-saving care. Designated as a Primary Stroke Center, a Certified Trauma Center, and an accredited site for heart and vascular diagnostics, it meets rigorous standards for rapid and expert treatment for the most serious conditions.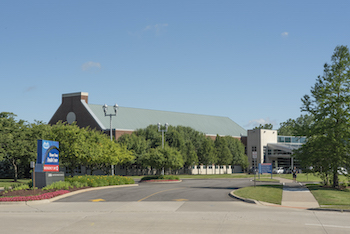 Henry Ford Health Center – Brownstown Emergency Room
23050 West Road
Brownstown Charter Township, MI 48183
This convenient, local emergency room is located inside an easy-to-access medical center, with on-site lab, X-ray, pharmacy and more. Ample parking, minimal wait times and the same expertly trained emergency expertise that Henry Ford Health is known for.
Henry Ford Same Day Care – Woodhaven
22505 Allen Rd
Woodhaven, MI 48183
When it's not-quite-an-emergency, our same day care options give Downriver residents another option for non-emergency conditions that are still urgent. Quick and convenient.