Henry Ford Health, one of the nation's leading integrated health systems providing innovative, quality care for more than 100 years, and Michigan State University, one of the world's leading research universities focused on advancing the common good for more than 160 years, are joining forces to transform health care.
Our unique partnership, Henry Ford Health + Michigan State University Health Sciences, is a catalyst for change, reimagining how we think about, innovate and deliver health and wellness. Our goal is to set a new standard for how individuals and communities experience care across the state of Michigan and the nation.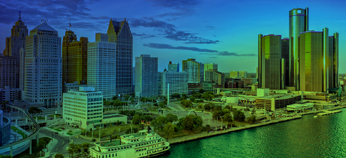 Through a joint research enterprise, a robust cancer center, and a focus on academic medical and health education of the future, this partnership will work to fight the health disparities that plague our most vulnerable communities, rural and urban. We're fueled by passion, curiosity and a little bit of grit—tirelessly developing solutions, treatments and programs to make life collectively better.
We have big goals and recognize it won't happen overnight. We're committed to working together with communities across the state, toward substantial change for the next 30 years and beyond. Because together, we can achieve more. Together, we can transform lives.
Our Focus
---
Henry Ford Health + Michigan State University Health Sciences is focused on vital pillars of health outcomes: research, education and care. And we are initiating programs in crucial areas affecting health and wellness including health equity, cancer, population health and neuroscience.
Advancing Research
---
We are developing a nationally recognized research program focused on improving clinical outcomes for our communities while contributing to the global advancement of health care. Our research programs engage underrepresented communities in meaningful ways, including translational clinical research to identify potential interventions for health care disparities.
A new urban-based public health program will focus on training and research as well as provide a platform for collaboration with other institutions.
Evolving Education
---
We are working together to prepare the next generation of physicians and nurses to care for patients.
We are developing progressive training models rooted in early collaboration across disciplines—medical, nursing and pharmacy—that prepare students for the integrated care models demanded in practice today and in the future.
Henry Ford Health's and Michigan State University's distinguished faculty will be co-located on the regional campus of the world-class and historic Henry Ford Hospital in Detroit, Michigan. MSU will expand its presence in Detroit through development of this regional campus.
Combating Cancer
---
We are committed to bringing together research and clinical applications to create a national and international destination for access to the most advanced cancer therapies and research.
Through this partnership, Henry Ford Health + Michigan State University Health Sciences will achieve a National Cancer Institute (NCI) cancer center designation by serving the unique cancer needs of our state and beyond through advanced research and clinical capabilities with a focus on curing cancer and reducing disparities in cancer outcomes, while also improving the lives of the people and communities we serve.
Our research will work to close the gap in health care outcomes for cancer patients based on race, ethnicity, gender and socioeconomic status.
Enhancing Care
---
Henry Ford Health + Michigan State University Health Sciences is dedicated to advancing how health care is delivered in our communities and across our nation. Together, we are improving patient experiences and outcomes and examining the ways people access and interact with our health system.
Ensuring Justice, Equity, Diversity and Inclusion
---
Justice, equity, diversity and inclusion are foundational in every element of our partnership and in everything we do.
We are committed to addressing health inequities and disparities in both urban and rural communities. This partnership addresses key goals and deliverables that seek to eliminate health disparities, address the social determinants of health and remove barriers to opportunity for medical education and training.
With Henry Ford Health's and MSU's expansive reach across the state, this collaboration creates an unprecedented opportunity to address the social determinants of health that affect the lives of Michiganders. While demographics may differ, social conditions affecting the health of individuals in both urban and rural areas are rooted in similar conditions including income levels and health care affordability, transportation and access, education and environmental conditions both built and natural.
Key to disease prevention and treatment is the critical need to establish baseline data and statistics and then chart the path to improving health outcomes for all Michiganders, no matter where they live.
A key element to our justice, equity, diversity and inclusion efforts is workforce development, with a commitment to train diverse future physicians, nurses and other health care providers who can meet Michigan's 21st-century health care needs. Our teams will reflect the diverse communities we serve. Equitable access to quality health care is foundational to vibrant and strong communities. Our goal is to ensure that no matter who you are or where you live, your health won't limit your potential.
Henry Ford Health + Michigan State University
Learn about each organization and browse frequently asked questions about this innovative partnership.