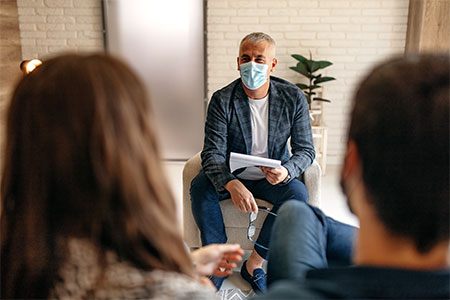 Established in 2022, the Michigan Mental Innovation Network and Clinical Design (MI Mind) is a statewide partnership with providers and provider organizations. The goal is to prevent suicide and improve outcomes by reducing suicide attempts and deaths. MI Mind offers access to and engagement in evidence-based services for providers and reduces expensive costs for patients. The Collaborative Quality Initiative (CQI) will start with a focus on suicide prevention and expand to include other behavioral health domains, such as depression, anxiety, and substance use disorders.
MI Mind aims to promote and implement effective clinical practices for suicide prevention by:
Developing suicide prevention protocols with Primary Care and Behavioral Health for screening and severity assessment.
Supporting care pathway development and clinical collaboration between Primary Care and Behavioral Health specialty care.
Training clinical staff with the well-established Zero Suicide protocol.
Collecting process measures and patient outcomes for quality improvement.
Conducting research to inform clinical recommendations for suicide prevention.
Our Team
Meet the MI Mind team at the Henry Ford Health Coordinating Center.
Brian Ahmedani, Ph.D., LCSW, Program Director
Director of the Center for Health Policy & Health Services Research and Director of Research, Behavioral Health Services at Henry Ford Health, Dr. Ahmedani's research focuses on health services and interventions for individuals with mental health and substance use conditions, with special interest and expertise in suicide prevention. In addition to his leadership role with MI Mind, he is the Henry Ford Health Site-PI for the NIMH-funded Mental Health Research Network and the Health Systems Node of the NIDA Clinical Trials Network. He is PI/Co-PI for two large, multi-site studies on suicide prevention. These studies examine healthcare use patterns before suicide and evaluation of the Zero Suicide model. Dr. Ahmedani serves on Gov. Gretchen Whitmer's Suicide Prevention Commission, working with state departments, agencies and nonprofit organizations to research the causes and underlying factors of suicide in Michigan.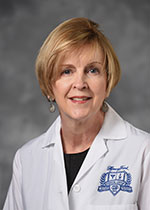 Cathrine Frank, M.D., Program Director
Board certified in psychiatry and neurology, Dr. Frank strives to prevent illness and work together with patients and families to achieve full remission of psychiatric disorders. She is chair of the Department of Psychiatry and Behavioral Health Services at Henry Ford Health. A proponent of evidence-based psychotherapies, her ongoing research interests include suicide prevention and integrated behavioral health care. She is a principal author of suicide prevention guidelines that were central to earning the Codman Award, The Joint Commission's highest honor, and the American Psychiatric Association's Gold Award in 2006. Those guidelines led to an international interest and commitment to eliminating suicide through the Zero Suicide initiative. Dr. Frank is passionate about medical education and has received multiple teaching awards.
Heather Omdal, MPH, Program Manager
An experienced program manager, Omdal's background includes work the Mental Health Service Corps (part of the City University of New York), the Primary Care Information Project at the New York City (NYC) Department of Health and Mental Hygiene and the American Lung Association's NYC Asthma Coalition. Working with collaborative care initiatives across New York City, she has provided project management support to increase access to mental health services within primary care outpatient clinics. Her experience includes working closely with health system leadership on quality improvement initiatives for inpatient and outpatient settings. Omdal acted as director of a quality collaborative to launch several pediatric asthma improvement projects, trained and supervised health education staff and hosted events for the coalition. With a master's degree in public health from the Icahn School of Medicine at Mount Sinai, New York, Omdal's study emphasis was in epidemiology and biostatistics. Her role with MI Mind includes program administration, strategic partnerships with other Collaborative Quality initiatives at Henry Ford Health and University of Michigan Medicine, operational oversight of the coordinating center team and engagement with physician organization leadership for collaborative participation.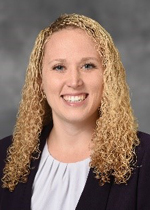 Amanda May, LMSW, Training Director
A licensed clinical social worker, Amanda May is also the manager of the Behavioral Health Integration (BHI) program at Henry Ford Health. Beginning in 2017, she worked with a multidisciplinary team to launch Henry Ford Health's first collaborative care program, then expanded it to 32 primary care sites. In her role with the MI Mind CQI, Amanda will bring her experience to partner with participating primary care physicians to provide guidance, training, and resources as they incorporate MI Mind protocols into their practices. She is passionate about working with patients who are experiencing symptoms of grief, anxiety, and mood disorders. Amanda has a bachelor of arts degree from Michigan State University, a master of social work from The University of Michigan and received advanced training at the Beck Institute.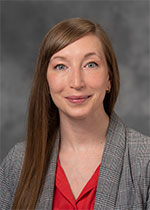 Sarah Moore, LMSW, Clinical Quality Improvement Trainer
A licensed master social worker, Sarah Moore has been part of the Henry Ford Health team since 2015. As an integration psychotherapist in the Behavioral Health Services department, she collaborated with primary care providers to offer therapy for individuals with mental health diagnoses. In the Infectious Disease clinic, her work as a medical case manager included coordinating medical services and providing resources and connections for patients living with HIV. She also collaborated with Women's Health Services and the Center for Health Policy & Health Services Research at Henry Ford Health to offer counseling and resources for pregnant patients with the goal of preventing alcohol-related health issues during pregnancy. Her background includes suicide prevention, crisis intervention and individual and group therapy. In her role as Clinical Quality Improvement Trainer with MI Mind, Moore will lead, facilitate, and coordinate the design and implementation of behavioral health initiatives. She holds bachelor's and master's of science degrees in social work from Wayne State University.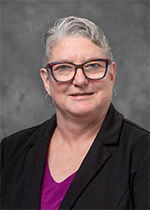 Leslie Johnson, RN, Quality Improvement Lead
Even in nursing school, Leslie Johnson was interested in clinical quality and in making it easier for practices and providers to bring new strategies into a busy clinic. With more than 15 years of nursing experience, her background includes clinical quality improvement, case management, care transitions and bedside patient care. Her career has been centered in southeast Michigan and included positions at Health Alliance Plan (HAP), The Detroit Medical Center, Concerto Healthcare and Blue Cross Complete. Through clinic management experience, including managing two Federally Qualified Health Centers (FQHC), she has unique insight into how clinics function and the challenges of introducing quality improvement initiatives into clinic flow. At MI Mind, she is the liaison between practice organizations and MI Mind with a focus on streamlining data reporting and assisting providers with the process. Johnson has a bachelor's of science in nursing from Oakland university and is certified in healthcare quality.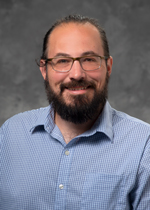 Jeffrey Warchall, Senior Analyst
With vast experience in engineering, data analysis and business management, Jeff Warchall brings expertise in both the technical and market-facing sides of data analysis and information technology to MI Mind. As senior analyst for MI Mind, he heads up the external facing user portal where MI Mind partners can access news, training and continuous performance improvement as the project matures. A broad portfolio of past projects includes using nationwide socio-economic data in research to develop inferences about the best places to invest in the revitalization of Detroit. He also led business implementation projects using historic sales and vendor performance data to set manufacturing inventory levels. His professional roles have included engineering consulting, construction management, civil engineering management and product engineering. Warchall has a bachelor's of science degree in civil engineering from Northwestern University and multiple certificates in data science.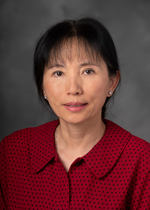 Julie Ge, Senior Analyst
With extensive experience in database administration and development, reporting analytics platforms and creating stored procedures, Julie Ge brings information systems and business Intelligence talent to MI Mind. She has a broad understanding of information systems and application architecture standards. Her primary areas of focus include healthcare applications with work in southeast Michigan at Trinity Healthcare and Together Healthcare Network and in Knoxville, Tennesee at Caris Healthcare. In her role as senior analyst for MI Mind, she manages the MI Mind collaborative data registry. Her work supports the quality assessment and improvement activities related to improving patient outcomes for suicide prevention. Ge has a master's of science degree in computer engineering from Wayne State University and a bachelor's of science in organic chemistry from Shangdong University, Jinan, China.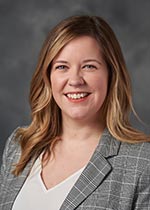 Melissa Foster, Senior Public Relations Specialist
As Senior Public Relations Specialist, Melissa Foster brings more than 15 years of experience in public relations and marketing to MI Mind. In her role she oversees the development of communications to grow recognition of the MI Mind program and its participants' achievements. These communications include identifying storytelling opportunities and creating content, media campaigns and engagement activities. Prior to joining the MI Mind team, she served as senior public relations manager at The Henry Ford for 10 years, growing the institution's media awareness through outreach, events and the launch of a national television show. In addition, she has communications experience in the automotive, motorsports and tech industries. Foster has a bachelor of arts in integrated public relations from Central Michigan University.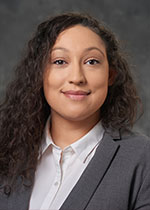 Gabrielle Benton, LLMSW, MPH, CQI Program Coordinator
In her role as Program Coordinator with MIMind, Gabrielle Benton builds and maintains relationships with provider organizations across the state, offering leadership and professional expertise for participating sites and managing recruitment, on-boarding, contracts, and quality improvement initiatives. She works closely with participating physicians, practices, and provider organizations, as well as Blue Cross Blue Shield of Michigan. Prior to joining the MIMind team, she completed an internship in public health social work at the Detroit Medical Center Family Residency Clinic in Detroit where she led multiple quality improvement and research projects and provided patient care, counseling and needs assessments. Her background includes additional internships that focused on patient care, treatment, interventions, community development and public health policy. She evaluated and assisted patients with housing and post-discharge needs and worked collaboratively with social workers and physicians, including psychiatrists. Her career goals are to effect change on both an interpersonal level and on a large scale. Benton has a master's degrees in social work, a master's degree in public health with a concentration in public health practice, and a bachelor's degree in communication sciences and disorders, all from Wayne State University in Detroit.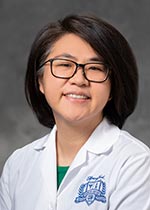 Hseuh-Han Yeh, Ph.D., Senior Biostatistician, MI Mind, and Assistant Scientist, Center for Health Policy & Health Services Research
With a multidisciplinary background in mathematics, statistics, and epidemiology, Dr. Yeh brings experience in data science and epidemiological research to MI Mind. She is particularly interested in developing and applying statistical methods for suicide prevention, substance use, mental health disorders and precision medicine research. Her skills in using electronic health records, insurance claims data, and survey data in research are also a valuable asset to the MI Mind team. Dr. Yeh serves as statistician on several NIH-funded and health-related projects, providing statistical expertise to support study design and analysis. She received a bachelor's degree in applied mathematics from National Sun Yat-Sen University, and holds a master's degree in statistics and a Ph.D. in epidemiology from Michigan State University.
MI Mind Content Experts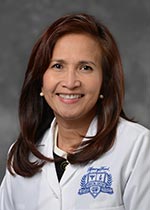 Doree Ann Espiritu, M.D., Henry Ford Health Psychiatrist
Dr. Espiritu is the Medical Director of the Behavioral Health Services Outpatient Division and Behavioral Health Integration with Primary Care (BHI). BHI is an initiative at more than 32 clinics at Henry Ford Health. Her expertise in adult and geriatric psychiatry and her background in integrating behavioral health with Primary Care have made her a key member of the MI Mind team. With leadership and training experience as the supervisor and resident mentor for the geriatric psychiatry program, her approach to continuing physician education and training is invaluable. Dr. Espiritu earned her medical degree at Fatima College of Medicine, completed residency training at Henry Ford Hospital and the Veterans Memorial Medical Center in Detroit, and completed a fellowship in geriatric psychiatry at Wayne State University. She has been with Henry Ford Health since 1995.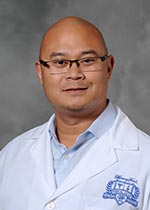 Emmanuel Dizon, M.D., Henry Ford Health Internal Medicine Specialist
During his more than 20 years caring for patients at Henry Ford Health, Dr. Dizon has served as the physician-in-charge for multiple primary care clinics. Recognizing the need for a better model to deliver mental health care in a primary care setting, he co-led the creation of a collaborative care model for the health system. He is currently one of the primary care champions for the Behavioral Health Integration program and continues to strengthen engagement with primary care colleagues. His perspective and contributions as a primary care physician are essential to the MI Mind program. Dr. Dizon received an undergraduate degree at Yale University and a medical degree at the University of Michigan. He went on to complete his internal medicine residency at Henry Ford Hospital.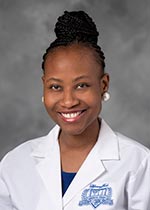 Tiwalola Osunfisan, M.D., Henry Ford Health Psychiatrist
Dr. Osunfisan is a Consulting Psychiatrist for Primary Care and Women's Health Behavioral Health Integration (BHI) initiatives at Henry Ford Health. Her specialization in consultation-liaison psychiatry (also known as psychosomatic medicine) focuses on the care of patients with comorbid psychiatric and general medical conditions. She also has a special interest in physician wellness, teaching experience as a supervisor and resident mentor for the Adult Psychiatry Residency program, and expertise in integrating behavioral health with outpatient care. Her background brings unique insights for the MI Mind program, particularly for MI Mind providers whose patients struggle with complex physical and behavioral health conditions. With a medical degree from Windsor University School of Medicine, Dr. Osunfisan completed a residency in psychiatry with Metro Health Medical Center in Ohio and a fellowship in consultation-liaison psychiatry at the Cleveland Clinic.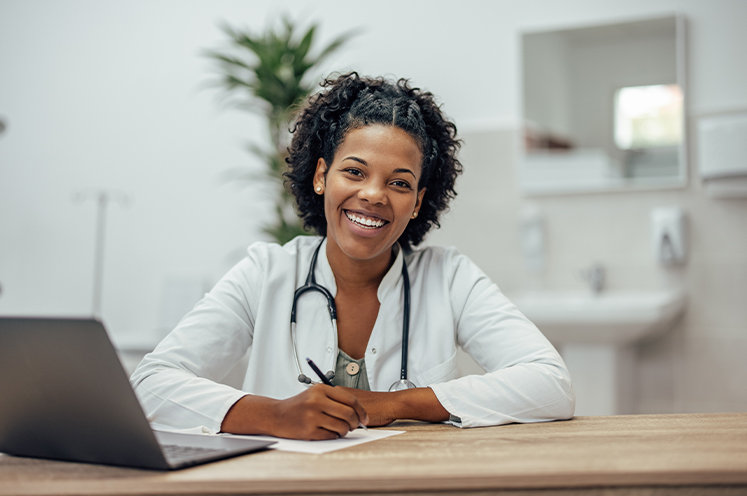 Are you a provider interested in participating in the MI Mind CQI?
Contact Heather Omdal, Program Manager