Henry Ford Health Makes Largest Healthcare Investment in Macomb County History with New Patient Tower
May 9, 2023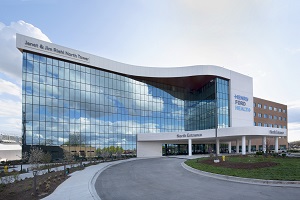 CLINTON TOWNSHIP, MICH.—After a decade of planning and three years of preparation, construction and anticipation, Henry Ford Health leaders and local officials Tuesday proudly took part in the ceremonial ribbon cutting and unveiling of the new Janet & Jim Riehl North Tower at Henry Ford Macomb Hospital, which stands to revolutionize the delivery of healthcare in Macomb County and beyond.
The five-story, 225,000-square-foot facility features all private patient rooms and a state-of-the art healing and work environment. The tower, which connects to the existing hospital, represents the largest expansion project since the hospital was built in 1975—and the largest healthcare investment in Macomb County history.
"This new patient tower is transforming the landscape of our Macomb hospital campus and will provide a technologically advanced, modernized medical setting for our team members, patients and their families alike," said Henry Ford Health President and CEO Bob Riney. "This investment in our community represents Henry Ford Health's deeply-rooted commitment to providing our Henry Ford family with the comfort, privacy and safety they so deserve—in a healing environment that's responsive to their needs."
All private patient rooms
The new tower's 160 private patient rooms were designed with extensive feedback from patients, families, physicians, nurses and the community at large, and are adaptable to meet our patients' diverse needs.
Features include a spacious, comfortable environment with large windows that promote natural light, blackout window shades that can be controlled from the bedside, enlarged toilet and shower rooms with sliding door access, a guest couch that can convert to a sleeping surface, an in-room safe for valuables, large televisions, in-room patient sitter cameras and more. Each room includes illuminated backlit artwork on the headwall.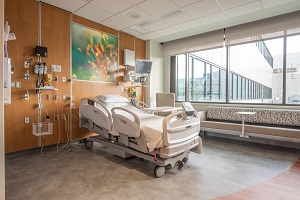 There are also rooms on each floor designed specifically to accommodate patients with disabilities, patients of size and patients with unique needs requiring a more secure environment.
Hospital intensive care beds will increase from 48 to 60 with the opening of the new tower, and all 160 of the new patient rooms can convert to intensive care rooms as critical care demand accelerates through the coming years. The tower also features comfortable visitor lounges on each floor and staff-only areas with a lounge, conference room, locker room, quiet room and lactation room.
"We are where we are today— taking this historic and transformative step in Macomb County— because of the community's trust, belief and support of Henry Ford Macomb Hospital. We do not take that trust for granted," said Henry Ford Macomb Hospital President and CEO Barbara Rossmann. "With this new tower, we've created a holistic environment reflective of the many cultures and communities in and around Macomb County that we have the honor and privilege to serve. It is very gratifying to see this project finally come to life."
Economic impact
The full scope of the $265 million project includes a redesigned north entrance, expansion of the existing powerhouse and loading dock, roadway improvements and a new secure staff parking lot to address campus parking needs.
In addition to the hundreds of skilled trades who were employed during construction, more than 30 full-time equivalent positions in nursing, pharmacy, plant operations, supply chain, security, patient transport, environmental services, food and nutrition services, and information services have been added to fully staff the new tower.
Architectural engineering for the project was provided by AECOM and construction management services were provided by Barton Malow Dixon. Site work began in late 2020, and tower construction began in summer 2021.
"We are profoundly grateful for the generous donations that helped to make this new patient tower possible, including a naming gift by community stewards and philanthropists Janet & Jim Riehl of Friendly Automotive Group," said Mary Jane Vogt, Henry Ford Health's Executive Vice President and Chief Development Officer.
A boost for local artists
In partnership with the Anton Art Center, the hospital's Healing Arts program issued a Call for Art in February 2023. More than 270 Michigan-based artists, most from Macomb County, submitted more than 1,300 works of art. More than 200 pieces were purchased and are displayed throughout the new north tower.
Michigan artist Doug Jones was commissioned to create the artwork that hangs in the new north lobby. Working with the Anton Art Center, Jones engaged community members at creation sessions held at local events throughout the summer and fall of 2022, using his collaborative PIXEL technique.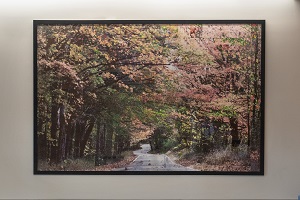 "We know that art can reduce feelings of anxiety and inspire feelings of calmness. That's why we were so purposeful in our selection of artwork for the new tower," said Barbara Rossmann. "We also saw this as a chance to support local artists and help build the arts community in Macomb County and Michigan."
Up next is a Grand Opening Celebration fundraiser on May 12. The gala event includes a strolling dinner and live entertainment. Purchase tickets at henryford.com/macombgala
To learn more about the new tower, henryford.com/MacombTransformation
Henry Ford Macomb Hospital provides acute and tertiary care, including advanced level emergency and trauma services. Specialty services include heart & vascular, cancer, a birthing center, an inpatient rehabilitation unit and advanced neuroscience, spine and orthopedic care. The hospital also features minimally invasive surgery and leading diagnostic imaging services and capabilities. More than 1,000 physicians and 3,000 employees care for nearly 20,00 inpatients each year, with more than 57,000 emergency visits in 2022.
# # #
MEDIA CONTACTmediarelations@hfhs.org
About Henry Ford Health
Serving communities across Michigan and beyond, Henry Ford Health is committed to partnering with patients and members along their entire health journey. Henry Ford Health provides a full continuum of services – from primary and preventative care, to complex and specialty care, health insurance, a full suite of home health offerings, virtual care, pharmacy, eye care and other healthcare retail.
It is one of the nation's leading academic medical centers, recognized for clinical excellence in cancer care, cardiology and cardiovascular surgery, neurology and neurosurgery, orthopedics and sports medicine, and multi-organ transplants. Consistently ranked among the top five NIH-funded institutions in Michigan, Henry Ford Health engages in more than 2,000 research projects annually. Equally committed to educating the next generation of health professionals, Henry Ford Health trains more than 4,000 medical students, residents and fellows every year across 50+ accredited programs
With more than 33,000 valued team members, Henry Ford Health is also among Michigan's largest and most diverse employers, including nearly 6,000 physicians and researchers from the Henry Ford Medical Group, Henry Ford Physician Network and Jackson Health Network.
The health system is led by President and CEO Robert G. Riney and serves a growing number of customers across 250+ locations throughout Michigan, including five acute care hospitals, two destination facilities for complex cancer and orthopedics and sports medicine care, one behavioral health hospital, primary care and urgent care centers.