Lam Archives & Hospital History
The Conrad R. Lam Archives is the official archival repository of the Henry Ford Hospital and Henry Ford Health.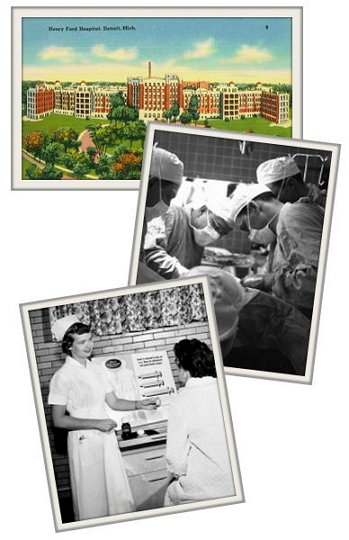 The primary purposes of the Archives are to:
Collect and preserve records, photographs, and artifacts that document the legacy and growth of Henry Ford Health.
Provide Henry Ford Health staff, employees, and outside researchers access to the archival collections for research and educational purposes.
Lam Archives Collections
Located in the Health System's One Ford Place building, the collections of the Archives include manuscripts, files, books, institutional newsletters and publications, photographs, and audiovisual materials that document health care, medical and surgical practice, nursing service, medical and nursing education, research, employee and community relations, institutional growth, and the history of our buildings.
Conrad R. Lam Archives
A Division of the Sladen Libraries of Henry Ford Health
One Ford Place, 5H
Detroit, Michigan 48202
(313) 874-6948
Phone
(313) 874-5442 Fax
Julia Pope - Senior Archivist
lamarchives@hfhs.org
If you have information about any items in the collection, such as identifying a person in a photograph or the date of an event, or if you would like to inquire about donating materials to the archives or scheduling an appointment to visit, please contact Julia Pope, Senior Archivist, at jpope2@hfhs.org.