Breakthrough Treatments and Delivery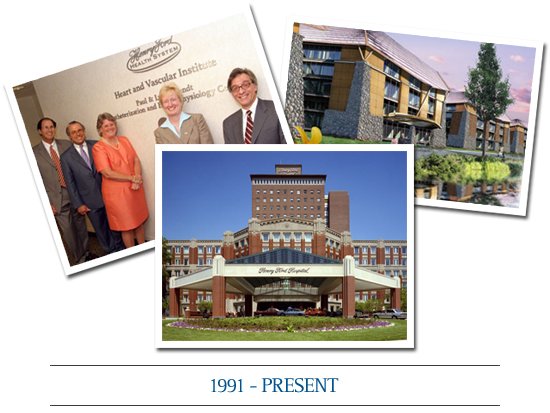 In 1992, Henry Ford Health acquired a 600,000-square-foot building formerly owned by Unisys Corporation and located about six blocks southeast of the hospital. Corporate and administrative staffs, as well as research centers were relocated to the building, renamed One Ford Place, from several leased spaces in the New Center area and in the suburbs. This move demonstrated the health system's continued commitment to the city of Detroit. One entire wing of five floors was completely renovated to provide 45,000 square feet of new research laboratories for Henry Ford Health's ever expanding clinical and scientific research programs.
One of the Health System's most important achievements in 1995 was its merger with Horizon Health System. With its health centers and two hospitals, Bi-County Osteopathic Hospital in Warren and Riverside in the downriver area south of Detroit, Horizon added an osteopathic arm to the many services already offered by Henry Ford Health.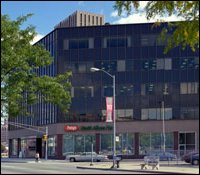 By the middle of the 1990s, studies in health outcomes, health promotion, disease prevention and quality improvement had been added to the Henry Ford Health portfolio of research activities. Grant funding for research increased tremendously during the 1980s and continued to do so. Between 1990 and 1995, research grants doubled to $22 million in funding from sources such as the National Institutes of Health, NASA, the National Cancer Society, and the American Heart Association. Research programs which made major advances in the 1990s included efforts in the areas of strokes, migraines, hypertension and AIDS. In 1995 alone, approximately 1,500 research projects were underway at Henry Ford Health.
The '90s also marked the attainment of two milestones: HAP reached 500,000 members and HAP's HMO earned three year, full accreditation from the National Committee for Quality Assurance. The '90s also saw the market entry of Alliance Health and Life Insurance Company and a complete line of experience-rated products.
In further efforts to meet the needs of its patient community, Henry Ford Health formed a number of alliances with other health systems in the mid-1990s. It established the Children's Health Network with Children's Hospital of Michigan to assure appropriate care of seriously ill children, especially for tertiary care services such as pediatric surgery and cardiology, which were not usually provided at the hospital.
The late '90s and the new millennium marked a time of substantial donations to establish or further enhance the system's centers of excellence. In 1998 Josephine Ford donated $10 million to Henry Ford's Cancer Center, which was renamed in her honor. The following year, friends and family of David Hermelin, ambassador to Norway, pledged $10 million to create a brain tumor research center at Henry Ford. Then in 2001 the Vattikuti Foundation was created through the generous donation by Raj and Padma Vattikuti. The gift was a $40 million donation to support cancer research and treatment programs at Henry Ford Health and Beaumont Hospitals. In partnership, the institutions work on new treatment methods and education in the prevention of prostate and breast cancers. The Vattikuti Urology Institute, under the direction of Dr. Mani Menon, was the first in the country to routinely perform surgery using a robotic system for the treatment of prostate cancer and to perform the world's first outpatient robotic prostatectomy. (As of Feb. 2006, the hospital had performed 2,230 robotic prostatectomy procedures and counting - more than any other hospital in the world.)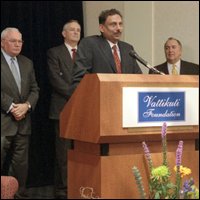 The years 2004 and 2005 also were times of further expansion and national recognition for Henry Ford Health. It won the 2004 Foster G. McGaw Award for excellence in community service. Henry Ford is the first health system in Michigan to win the prestigious honor, which recognizes an organization for providing programs and services that promote the health and well-being of the community.
Henry Ford Hospital was ranked by U.S. News and World Report magazine in 2005 for excellence in 10 medical specialties. The report features the top 50 of America's "Best Hospitals" and ranked Henry Ford in more specialty areas than any other Detroit area hospital, including cancer, digestive disorders, geriatrics, heart and heart surgery, hormonal disorders, kidney disease, neurology and neurosurgery, otolaryngology, respiratory disorders and urology. Henry Ford Hospital also ranked sixth nationally in the "50 Exceptional Hospitals," April 2005 issue of Consumers Digest magazine. Henry Ford was the only hospital ranked from southeastern Michigan, and one of two in the state.
In February 2005 Health Alliance Plan (HAP) and the Henry Ford Medical Group piloted a major electronic prescribing initiative at the request of the Big Three automakers - General Motors Corp., Ford Motor Co. and DaimlerChrysler, to cut prescription costs and improve quality. The 60-physician pilot was so successful, e-Prescribing quickly became a Henry Ford Health-wide initiative. A year after e-Prescribing was launched, more than 500,000 prescriptions had been filled by the Henry Ford Medical Group. e-Prescribing has helped Henry Ford Medical Group improve its overall generic use rate by 7.3 percent, which will save $3.1 million in pharmacy costs over a one-year period.
In 2005, Henry Ford further strengthened its commitment to Detroit by opening the $8.2 million, 80,000-square-foot Henry Ford Medical Center in the beautiful, renovated space at New Center One; and the $1.4 million Henry Ford Medical Center - Harbortown, on East Jefferson Avenue, in the Harbortown retail center in Detroit.
In the fall of 2005, Henry Ford Health broke ground for the new $310 million, 300-bed Henry Ford West Bloomfield Hospital, which opened in March 2009. The new hospital was attached to the existing Henry Ford medical center which opened in 1975. When the hospital opened, it was staffed by 2,300 medical professionals, utilizing the most advanced technology available in healthcare. The hospital offers full-service medical and surgical services that include the following specialties: orthopedics, obstetrics and gynecology, neurosurgery and back surgery, cardiovascular services, women's health, cancer services and emergency care.
Today, more than 1,200 physicians in more than 40 specialties staff the Henry Ford Hospital and 27 Henry Ford Medical Centers. These sites and five other hospitals, several special programs and centers, and Michigan's largest mixed model managed care plan (HAP) allow the Henry Ford Health to handle 4.2 million patient visits annually. Each year, Henry Ford Health providers perform more than 88,800 ambulatory surgery procedures and nearly 113,000 patients are admitted to Henry Ford Health hospitals. Henry Ford records $5.7 billion in revenues annually while providing $391.2 million in uncompensated care (2016).
With more than 30,000 employees, Henry Ford Health is one of the largest employers in the state. These employees and physicians take seriously the Henry Ford Health's mission to provide exceptional quality, cost effective care strengthened by education and research, carrying on the traditions of the founder and the original staff of the Henry Ford Hospital.
Photos: © Property of Henry Ford Health Conrad R. Lam Archives, All Rights Reserved