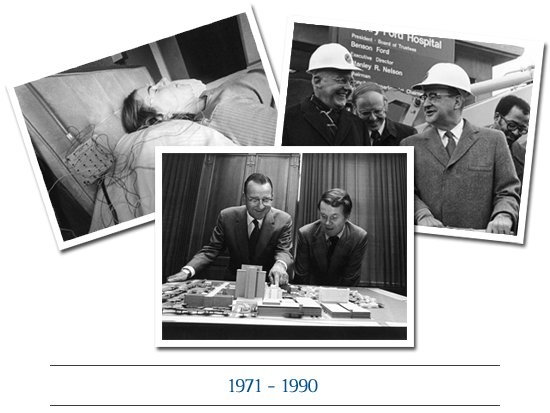 In 1971, Stanley Nelson, who had been hospital administrator at Abbott-Northwestern Hospitals in Minneapolis, accepted the position of the hospital's new executive director. On Nelson's arrival in Detroit, many problems faced the hospital, in terms of physical facilities, patient base and patient care delivery systems, as well as human resources issues for physicians and nursing staff. Over the next 17 years Nelson, with unique energy and vision, would direct a turnaround and lead the hospital through a period of monumental transformation, establishing it once again as a pioneer among healthcare institutions in the United States.
In the summer of 1971, the hospital renewed its commitment to the city of Detroit with its extension of services to the Community Health and Social Services Center (CHASS) in partnership with the City Health Department and the Michigan State Department of Social Services. The CHASS clinic, located on West Vernor in a Spanish-speaking neighborhood, provided free health services to non-English speaking, low-income families in Detroit's inner city. A similar clinic, the Cabrini Clinic, has served inner-city patients of Detroit's Corktown neighborhood since the 1950s with Henry Ford physicians volunteering their time.
Nevertheless, in the 1970s the hospital's leadership recognized changes in the demographics of the city and its patient base. The concept of "branches" or satellite clinics, which had been suggested earlier, had been discussed with increasing seriousness. Almost half of inpatients, as well as outpatients, seeking service at the hospital were coming from outside of Detroit, with about 40 percent coming from the seven counties surrounding the city. It was clear that additional care facilities could succeed in the suburban areas, and the hospital began to develop proposals for expansion into those communities.
The need for space for computer operations also had become acute, and a building was purchased in Troy to house it. The 60,000-square-foot building on Big Beaver Road was large enough to provide facilities for clinical activities, as well as the information systems operations. On its opening in the spring of 1973, the hospital initiated its first satellite center, offering renal dialysis services and outpatient psychiatric care.
In October 1973, Benson Ford announced the Ford Foundation's gift of $100 million to the hospital. The gift was given in two parts - $25 million in cash, and $75 million as an annuity which would payout $7.5 million per year over the following ten years. This grant would make possible the construction of a long-needed and planned education and research building as well as a decade-long program of growth and development. A Development Office was established immediately after the gift was announced. Initially, the goal of the Development Office was to raise $200 million from private and corporate sources to support the program of growth, optimistically called "The Decade of Development."
After receipt of the grant, the hospital also was able to move forward with the satellite concept more aggressively. Plans were developed for the construction of outpatient ambulatory care facilities in Dearborn and West Bloomfield. The Ford Land Development Company presented a gift of land to the hospital. The 21-acre site, along Hubbard Drive near the Southfield Freeway, was adjacent to the huge new Fairlane Center shopping mall, which was then under construction. In West Bloomfield, the hospital purchased an 80-acre parcel of land along West Maple Road between Halsted and Drake Roads. Construction began on both facilities in 1974.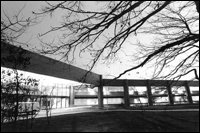 In the fall of 1975 the two large satellite centers at Fairlane and West Bloomfield opened. The centers, which were twin structures, 78,000 square feet in size, featured outpatient facilities for adult and pediatric medical care, executive and school health programs, alcoholism treatment, diagnostic radiology, dentistry, psychological services, and pharmacies. Two modern operating rooms provided capability for outpatient surgery, and each center offered 24-hour emergency care service. Each center was equipped and staffed to treat 135,000 patients per year.
During the late '70s, Ford Motor Company commissioned Kaiser Permanente, the nation's largest, most successful HMO based in California, to study how HMOs could best serve the Detroit market. The Kaiser study indicated that a reorganized healthcare program able to inspire community support could offer a viable alternative to traditional healthcare as well as considerable savings in premium dollars and out-of-pocket costs. Based on these findings, negotiations between Henry Ford Hospital, Metropolitan Hospital and Health Centers, and Metro Health Plan, Inc. (which was formerly known as the Community Health Alliance) resulted in a new alliance-- Health Alliance Plan (HAP), the name given to the newly form healthcare delivery system in 1979.
The addition of the HAP HMO to the hospital's programs, in synergy with the new centers, helped to increase the patient base. Medical record number 2,000,000 was assigned in late 1979 to a new HAP member who visited the Fairlane Center for a physical examination.
By the end of the decade and throughout the 1980s, more radical change had occurred at Henry Ford Hospital than had marked all of its past history.
Improvements and additions at the Detroit campus had continued throughout the period, and included the construction of a 190 unit apartment building for house officers and their families and the Benson Ford Education and Research Building.
Research programs had grown from 23 laboratories, four of which were in the EBFI, early in the decade to 145 professionals in 31 laboratories with 160 projects and more than $6 million in grant funds in 1979. In the 1980s, breakthroughs in biomedical sciences led nationwide to a revolution in the scientific understanding of diseases. The hospital's growing research program contributed significantly. Grant funding for research increased throughout the decade to about $11.7 million in 1989.
Funded by more than $3 million in donations from auto companies and the MacGregor Foundation, the Maplegrove program for the treatment of alcohol and drug addictions was developed and its building constructed on a secluded site at the West Bloomfield campus. The 40,000 square foot, 50-bed center opened in February of 1981.
A new Center for Athletic Medicine was established at the Detroit Campus in early 1981 to offer "comprehensive diagnostic orthopedic therapy and rehabilitation of athletes suffering from acute and chronic sports injuries. The hospital had provided care to the athletes of Detroit's professional teams, including the Tigers, Lions, Pistons and Red Wings, as well as university teams, for many years.
A new Home Health Care (HHC) program was established by the hospital in 1982, offering various professional services in the home to continue with trained health professionals the care which had begun in the inpatient and outpatient units.

1982, Eleanor Clay Ford Pavilion

A 210,000-square-foot addition called Eleanor Clay Ford Pavilion opened in 1982, housing new operating rooms, modern emergency room facilities, intensive care units and radiology facilities
The hospital's Board of Trustees reorganized its corporate structure in 1983, incorporating a parent organization called the Henry Ford Health Care Corporation (HFHCC) to oversee the operations of the hospital and its subsidiaries.
Eight new outpatient centers were opened in 1984 and 1985. Five of them were "mini" centers located in Warren, Southfield, Rochester, Taylor and St. Clair Shores. An associated center, Preferred Medical Center, P.C., in Royal Oak, opened in the fall of 1984.
On April 23, 1985, Henry Ford Hospital staff performed Detroit's first heart transplant, and within five years, more than 100 transplants were performed with one of the nation's best survival rates.
In 1985 the Henry Ford Hospital observed its 70th anniversary. The HFHCC annual report for that year described it as "a 980 bed teaching hospital, ambulatory care and specialty center, regional emergency and trauma center." Patient visits exceeded 1.3 million per year, as patients came to the centers from 31 states and abroad.
After many years of evolutionary development, 1985 also saw the formation of a new governing body for the medical staff called the Henry Ford Medical Group. For the first time doctors had " clear financial responsibility, clear budget responsibility, clear responsibility for defining their own compensation." They had achieved, after years of work, the authority to participate in decisions about "their destiny."
Centers in Southland, Warren, Rochester and Southfield opened in 1985, and primary care services were added at the center in Troy. Other centers in Ann Arbor, Canton and Westland opened in 1987.
A merger formed between Cottage Health Services Corporation (the hospital and its two nursing homes) in Grosse Pointe and HFHCC in January 1986.
Later in 1986, HFHCC established an affiliation with Kingswood Hospital in Ferndale. This 100-bed psychiatric facility on West Eight Mile Road provided adult and adolescent inpatient service, as well as a program for lapsed chemically dependent patients called Second Step.
A 1986 joint venture agreement with St. Joseph Hospital of Macomb County resulted in the construction of a new ambulatory surgery pavilion at the Lakeside Center. This affiliation was later expanded when Henry Ford Hospital and St. Mary Hospital of Livonia signed an agreement that allowed Henry Ford physicians to serve as on-site consultants at St. Mary.
In 1988, the hospital signed a 20-year lease agreement with Wyandotte General Hospital in the downriver area, renaming it the Wyandotte Hospital and Medical Center. This hospital, which had originally been founded by members of the John B. ("Chemical") Ford family in 1925, is situated along the Detroit River. It is the downriver area's largest hospital with 359 beds, and offers general medical and surgical services, ambulatory surgery, sports medicine, adult and adolescent psychiatric care, as well as stroke and cardiac rehabilitation. It has specialty units for pediatrics, obstetrics and gynecology, intensive care, and coronary care.
In 1988, two new centers opened in St. Clair Shores, on Harper Road and on East Jefferson Avenue, and another opened in New Baltimore. The same year, new satellite clinics opened in Waterford and in Grosse Pointe Farms.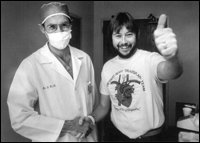 By 1988, Stanley R. Nelson had been at the helm of the Henry Ford Hospital for 17 years and was ready to retire. He led the search for a successor himself, and focused on aspirants who excelled in the leadership of integrated health systems. Gail L. Warden, a highly respected healthcare administrator at Group Health Cooperative of Puget Sound in Seattle, the nation's largest cooperative healthcare system, soon became the candidate of choice.
On Warden's arrival in Detroit in 1988, the HFHCC was a far different institution than Henry Ford Hospital had been when Stan Nelson took over. Its financial status was now healthy, with the physical plants sound and growing. It offered a full range of health services. The Board of Trustees was larger and very active. Beyond that, and more importantly, the medical staff was expanding in size and excellence. The challenges he saw involved strengthening academic programs, expanding managed care enrollment, and amplifying the tertiary care focus at the hospital.
During his first year, Warden strengthened relationships with state and local leaders, and initiated efforts to meet the needs of urban patients and to promote minority advancement among employees and staff. In December 1988, the Henry Ford Hospital Affirmative Action Program was launched, initiating formal programs to foster diversity awareness and enhance minority involvement at the hospital.
By the end of the 1980s, Henry Ford Health Care Corporation had grown to include three hospitals, 25 out-patient centers, an HMO and other related affiliates across the southern part of Michigan. In response to its own growth, as well as a need to address the changing climate of healthcare in the United States, leadership made a corporate reorganization. In 1990, Henry Ford Health Care Corporation became Henry Ford Health.
Photos: © Property of Henry Ford Health Conrad R. Lam Archives, All Rights Reserved