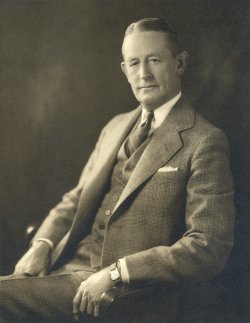 Dr. Frank J. Sladen (1882-1973) graduated from Yale University in 1902 and Johns Hopkins University in 1906. Influenced by the teaching tradition of the noted Hopkins physician Sir William Osler, Dr. Sladen also became known as a scholar and an educator in the field of medicine. At Johns Hopkins Hospital in Baltimore he served his internship and residency from 1906 to 1912 and then became the chief resident physician. His early research with Simon Flexner and Harvey Cushing included the use of meningitis antiserum, blood coagulation, and diphtheria antiserum.
In 1913 Dr. Sladen came to Detroit to serve as the Chief of Medical Service for the Detroit General Hospital. Henry Ford took over the finances in 1914 and committed himself to completing the civic project. He first selected Dr. Frank J. Sladen as the Physician-In-Chief and Dr. Roy McClure in 1916 as the Surgeon-In-Chief to head the new hospital. He modeled the institution after the closed practice system of Johns Hopkins and created a unique modern hospital with a nationally recognized staff of medical specialists. His vision for Henry Ford Hospital was one of community service in order to assist the growing population of the City of Detroit. It was Dr. Sladen who facilitated this work by providing key leadership as an instrument for change in the areas of social service and medical education.
Among his many achievements at Henry Ford Hospital were his work with the architect Albert Wood on the original hospital design, the formation of the Clara Ford Nurses School in 1925, and his years as a leading physician until his retirement in 1952. He was then named a medical consultant and continued to practice medicine at the hospital until 1971.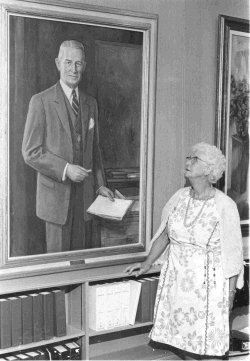 Dr. Sladen played an important role on numerous Henry Ford Hospital committees which are reflected today in the system. This included work on the Board of Trustees, the building committee, and the planning committee responsible for the construction of the 1954 Clinic building. His later research included work on aging and in chronic rheumatic diseases. Dr. Sladen had a firm belief in the integration of prayer and medicine as a means to heal the whole person and was recognized for this work by the National Council of Churches in 1959. He also had the honor in 1947 of dedicating the Physician's window in the National Cathedral in Washington, D.C.
After his death, the Henry Ford Hospital library was renamed the Dr. Frank J. Sladen Medical Library. Dr. Sladen was a prolific antiquarian book collector, a library committee member of the Wayne County Medical Society and was responsible for the 1915 founding of the Henry Ford Hospital library. A noted medical historian, Dr. Sladen's own manuscript collection is now preserved in the Henry Ford Health Archives.