Cardiac Surgeon, Henry Ford Hospital, 1938-1975
Conrad Ramsey Lam was born in 1905 in Ogelsby, Texas, the oldest of ten children. He graduated from Tahoka High School as valedictorian of his class and entered Simmons College (now Hardin-Simmons University) in Abilene on a partial scholarship for playing trumpet in the college's "Cowboy Band."
Lam entered Yale University in 1927. Upon graduation in 1932,he was awarded an internship at Henry Ford Hospital. After completing his internship, Dr. Lam became a surgical resident under Dr. Roy D. McClure, then surgeon-in-chief at the hospital. He eventually became chief resident under Dr. McClure and was appointed a member of the staff in 1938. He was the youngest member of the Henry Ford Hospital staff at the time. During his residency, he enjoyed a mentor-protegee relationship with Dr. McClure which lasted until McClure's death in 1951.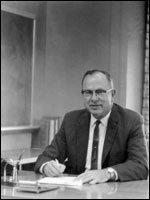 Dr. Lam quickly became a gifted surgeon and an avid researcher. Among his first projects was a collaboration with Dr. McClure on research regarding the treatment of burns. Throughout the 1930s and 1940s, he worked on research and the publication of findings and surgical experiences. His interests were far-reaching and included: burn treatment, heparin, penicillin, surgical correction of esophageal and thoracic deformities and traumas, thyroid and surgical correction of cardiac and venous malformations.
By the early 1950s Dr. Lam had become an accomplished cardiac surgeon - a specialty then in its infancy. In 1956, Dr. Lam performed the first successful open heart surgery in Michigan using the heart-lung machine. He also developed or helped to develop new surgical procedures for the correction of cardiac and thoracic conditions, such as mitral valve stenosis and congenital esophageal stenosis.
Dr. Lam retired from active surgery in 1975, becoming a consultant at the hospital. The following year he established the Henry Ford Hospital Archives in a small office in the Clara Ford Nurses Home. For 15 years Dr. Lam collected, preserved and provided access to historical information, photographs and other materials documenting the history of the hospital. Through his efforts, important documents including the papers of the first physician-in-chief and a large collection of photographs dating back to 1909 were preserved. He became the institutional memory of the Hospital and was considered the authority on its history.
Dr. Lam died in 1990, at the age of 85, having spent his entire career at Henry Ford Hospital.
Photos: © Property of Henry Ford Health Conrad R. Lam Archives, All Rights Reserved