Surgeon-in-Chief at Henry Ford Hospital, 1916-1951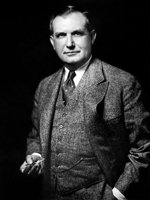 Roy Donaldson McClure was born on January 17, 1882 in Bellebrook, Ohio, the son of country doctor James A. McClure. His grandfather and great-grandfather were also physicians. His family moved to Columbus, Ohio where he graduated from Ohio State University with a B.A. in 1904, and then entered the Johns Hopkins Medical School in Baltimore. After graduating in 1908, he spent a fellowship year at the Rockefeller Institute in New York, working with Dr. Alexis Carrel. In 1907, Dr. McClure assisted Dr. Carrel in animal transplantation work. Dr. Mc Clure was also the physician to the Jekyll Island Club off the coast of Georgia. His patients included members of the Goulds, Pierpont Morgans, Pulitzers, Vails, Hills, Rockefellers, Vanderbilts and Whitneys.
From 1909 to 1911, he worked as a resident at New York Hospital. By invitation by Dr. William S. Halsted, he returned to Baltimore in 1912 to complete his surgical residency. Dr. William S. Halsted is considered the father of American surgery.
Dr. McClure came to Detroit in early 1916 to become the first surgeon-in-chief of the new Henry Ford Hospital. He served his entire career at the hospital, leaving it for only six months during World War I when he served as the commanding officer of Evacuation Hospital Number 33 in France.
During his tenure at the hospital, Dr. McClure gained international recognition for his skill as a surgeon, as well as for his dedication to research and teaching. He was a specialist in surgery of the thyroid and the breast.
He served as a member of the National Research Council during World War II. The council was the sponsor of the research he directed at Henry Ford on the use of a new class of antibiotic medication known as penicillin. He did significant research on the treatment of burns in the 1920s-1940s. In 1924, Dr. Edward C. Davidson, under Dr. McClure, developed the tannic acid method of the treatment of burns. In 1937, Dr. McClure received an award for this work from the Societe Internationale de Chirurgie in Paris. After World War II, he developed the oxyhemograph, a device which recorded the oxygen content in blood during surgery, with his longtime friend Charles F. Kettering.
Many surgeons who served their careers at Henry Ford Hospital trained under Dr. McClure. He was a demanding instructor, insisting on residencies of several years. He encouraged his students to engage in research and the writing of scientific papers, and to participate in the membership of professional organizations.
Dr. Roy McClure died in his sleep of cardiac failure on March 31, 1951 at the age of 69, after a full work day. Dr. McClure had served for 35 years as chairman of the Department of Surgery and co-administrator of Henry Ford Hospital with Dr. Frank Sladen, in spite of coronary heart disease which had caused at least seven heart attacks over 25 years.
Photos: © Property of Henry Ford Health Conrad R. Lam Archives, All Rights Reserved