Vascular Surgeon, Henry Ford Hospital, 1939-1975
Born in Hungary on June 20, 1910, Dr. D. Emerick Szilagyi is considered a pioneer in vascular surgery and was among the first to establish a separate division for the treatment of vascular diseases at Henry Ford Hospital.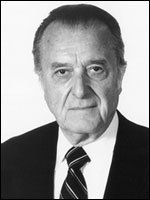 After earning his bachelor's degree from the Sorbonne in Paris, Szilagyi came to the United States and earned his medical degree from the University of Michigan Medical School. He served his internship at University Hospital in Ann Arbor from1935-36 and was an assistant resident in surgery and later a teaching assistant in pathology at University Hospital. He then performed his surgical residency at Henry Ford Hospital from 1939-42.
Prior to becoming chief surgical resident at Henry Ford Hospital in 1945, Dr. Szilagyi was medical director at the Ford Motor Company Rubber Plantation in Paro, Brazil.
In 1952 Dr. Szilagyi performed Michigan's and one of the world's first grafts of an abdominal aortic aneurysm. Two years later, Dr. Szilagyi established the first homograft blood vessel bank in the state. Sterilized homografts from human cadavers were then used in clinical practice and shared with other institutions. Then, in 1958, Dr. Szilagyi made history by becoming the first vascular surgeon to perform an aortic aneurysm repair live on television.
In the 1960s, Henry Ford Hospital opened a coronary care unit for patients needing intensive care for heart disease or following surgery. Dr. Szilagyi was among the first to resect an abdominal aortic aneurysm (bulging artery at risk of bursting) at the point where the aorta branches into two other arteries. This development has saved thousands of lives.
Dr. Szilagyi was appointed chairmen of the Department of Surgery at Henry Ford Hospital in 1966. In February, Drs. Szilagyi, Roger Smith and Joseph Elliott pioneered developments in vascular surgery, including the use of arterial reconstruction in the treatment of peripheral occlusive arteriopathy, the treatment of peripheral congenital arteriovenous fistulas, and the use of synthetic grafting materials such as the dacron graft manufactured for them by a Philadelphia ribbon maker. In 1968, these three doctors also performed the first allogeneic kidney transplant in Detroit.
Dr. Szilagyi stepped down as chairman of the Department of Surgery in 1975, after 36 years of service to the hospital. Throughout his career, he authored or co-authored more than 170 publications. He became a consultant and continued to edit the Journal of Vascular Surgery, spending several mornings a week in his office in the Clara Ford Pavilion for more than 20 years after his retirement.
Photos: © Property of Henry Ford Health Conrad R. Lam Archives, All Rights Reserved