C.E.O., Henry Ford Health, 1988-2003
President Emeritus, Henry Ford Health - 2003-Present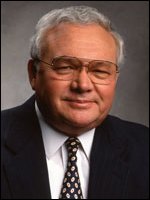 Gail L. Warden is president emeritus of Henry Ford Health in Detroit. Warden served as president and CEO of Henry Ford Health from April 1988 until June 2003.
Before joining Henry Ford Health, Warden served as president and chief executive officer of Group Health Cooperative of Puget Sound in Seattle from 1981 to 1988. Prior to that he was executive vice president of the American Hospital Association from 1976 to 1981, and from 1965 to 1976, he served as executive vice president and chief operating officer of Rush-Presbyterian-St. Luke's Medical Center in Chicago.
As former president and CEO, Gail Warden made great strides at Henry Ford Health. His first formidable challenge was the 1990 restructuring of Henry Ford Health Care Corp., Henry Ford Hospital and Greenfield Health System into Henry Ford Health. In more recent years, he steered the organization through turbulent times to maintain fiscal health and position the system for growth opportunities.
Among his many accomplishments, the following rank among the most notable:
Leading the health system to the position it holds today: the second largest in Michigan and an institution nationally known for its quality patient care, bench-to-bedside research and outstanding education program, especially its residency and fellowship training. It was selected as one of America's top 50 hospitals in Modern Maturity magazine.
Attaining prestigious honors: Henry Ford recently placed fifth in the country and first in Michigan in an annual ranking of integrated health networks based on factors such as financial stability, integration, technology and hospital utilization.
Developing a philanthropic engine to offset declining resources: The multi-year "Fund for the Future" campaign, which concluded in 2001, exceeded its $150 million goal by $15 million. In the past 15 years, 42 Endowed Chairs have been established to financially bolster clinical and research goals.
Serving on an Institute of Medicine committee that issued two groundbreaking reports that prompted healthcare organizations nationwide to identify and fix medical errors to minimize patient risk, and also strive to achieve "perfect" health care.
Partnering with Wayne State University to provide medical education and collaborate on medical research, bringing together the considerable resources of two quality organizations.
Establishing Henry Ford as a community leader through major investments in physical facilities (William Clay Ford Center for Athletic Medicine in the New Center Area, expansions at Henry Ford Hospital, new corporate headquarters, new suburban outpatient centers and hospitals), in people (five Henry Ford leaders are counted among the top 21 power brokers in southeastern Michigan in a recent influential poll), and in other non-profit organizations (including City Year, Virginia Park, Voices of Detroit Initiative and school-based health clinics).
Throughout his career Warden has received several significant awards. In 2002, Modern Healthcare selected him as one of the "100 Most Powerful People in Healthcare." In 2001, Modern Health Care Magazine named him one of the top 25 most influential individuals in the industry over the past 25 years. Yale University presented him with the first Thompson Visiting Fellowship Award and the National Committee for Quality Assurance gave him the Health Quality Award. In 2000, he received the American Hospital Association's Distinguished Service Award, its highest leadership recognition, and the Health Research and Educational Trust gave him the first Walter J. McNerney Fellowship Award for Health System Improvement. Warden received the American College of Health Care Executives' 1999 Gold Medal Award, its highest honor. Early in his career, the same organization selected him Young Health Care Executive of the Year.
Warden is a graduate of Dartmouth College and holds a master's degree in health care management from the University of Michigan. He received an honorary doctorate in public administration from Central Michigan University and is a member of the faculty of the University of Michigan School of Public Health.
Photos: © Property of Henry Ford Health Conrad R. Lam Archives, All Rights Reserved