About Henry Ford Early College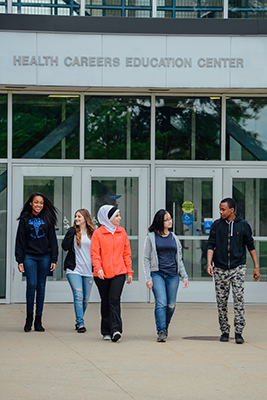 Henry Ford Early College (HFEC) is a five-year educational program for students interested in health-related careers. HFEC offers an integrated high school and college curriculum. We are a unique educational program combining the best elements of high school and college. Henry Ford Early College is operated under a partnership of Henry Ford Health, Henry Ford College and Dearborn Public Schools. HFEC students attend classes on Henry Ford College main campus. Students engage in a college-preparatory curriculum taught by teachers and faculty from Dearborn Public Schools and Henry Ford College. As an early college and a member of the Middle College National Consortium (MCNC), HFEC features a small school learning setting, real-world learning experiences, and service learning in an academically challenging environment.
During the 9th and 10th grade years students spend one day per week at Henry Ford Health in Midtown Detroit in the state-of-the-art science labs and gaining exposure to real-life experiences in health careers with Henry Ford Health employees as preceptors. The integrated high school and college course enrollment is a key component of every student's educational experience. The successful HFEC student will earn a high school diploma, innovative educational and professional experiences, and either a health career college certificate, Associate's degree in a health related field or up to two years transferable college credits towards their undergraduate degree and/or an Associate Degree from Henry Ford College.
HFEC is a public early college high school. There is no cost to students or their families for attending Henry Ford Early College. Tuition, most fees, and most textbook costs are paid for by the school. Students have access to Henry Ford College's wide range of student support mechanisms and student activities and can enroll in a variety of health related programs offered by Henry Ford College.
HFEC admits 54 ninth graders each fall.
Learn more about the program through our Henry Ford Early College brochure