Executive Vice President
Chief Financial and Business Development Officer
Henry Ford Health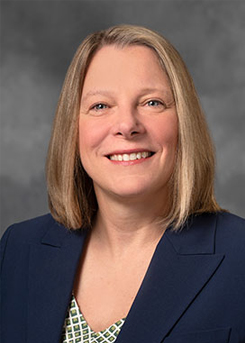 Robin Damschroder, MHSA, FACHE, is the executive vice president, chief financial and business development officer of Henry Ford Health, one of the nation's leading comprehensive, integrated health systems. She provides strategic, financial, and operational leadership to the $7.0 billion health system that includes six hospitals, seven major medical centers and manages more than 650,000 covered lives. With more than 33,000 employees, HFH is the fifth-largest employer in metro Detroit, and among the most diverse.
Robin's role recently expanded beyond finance, revenue cycle and supply chain to include business development and operational oversight of information technology (IT), facilities & support services and community care services (CCS), which draws on her prior operations leadership experience within Trinity Health and University of Michigan Health.
She also remains integral in Henry Ford Health's journey to value through the oversight of key healthy population initiatives and preparing Henry Ford for 2030. This work includes the development of the long-term financial plan for funding strategic investments.
Her work also includes co-leading the Community Empowerment Pillar of Henry Ford Health's Diversity, Equity, Inclusion and Justice plan. Major accomplishments have included achieving 8% supplier diversity spend award goal to date, establishing goals for emerging managers investment portfolio and supporting deployment of community information exchange.
She is currently serving on the board of HFH-MSU Health Sciences Center (Academic Partnership), Truveta (Data) and Iodine (Revenue Cycle). She also volunteers her time to American Heart Association Detroit Heart Walk, United Way Community Impact Board and Detroit's Women of Tomorrow mentoring program.