DAISY Award Nomination Form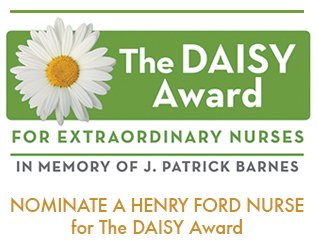 The DAISY (Diseases Attacking the Immune System) Award is an international award program that honors and celebrates the skillful, compassionate care nurses provide.
If there is a nurse who has provided exceptional care and helped to make your visit a positive one, please recognize them by filling out the form below.
DAISY Award Honorees personify Henry Ford Health's remarkable patient experience. These nurses consistently demonstrate excellence through their clinical expertise and extraordinary compassionate care.