Tablet and Phone App
The Henry Ford Transplant Institute app for tablets and smartphones intuitively meets the needs of referring physicians and staff. Our app makes it easy to refer patients and puts important transplant information at your fingertips.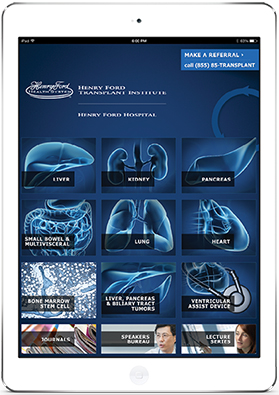 Download the tablet and phone app
The Henry Ford Transplant Institute app is available for free for Apple and Android products.
To download the app:
Search for "Henry Ford Transplant Institute" in the Apple® App Store or Google Play.
Choose the "install" option to download the app to your tablet or phone.
Use the app to refer a patient or learn about the transplant services we offer.
Easy referrals using the transplant institute app
It takes just a few seconds to enter contact information for you and your patient, as well as optional information about the patient's medical situation and insurance. Once you hit submit, the information goes straight to one of our transplant outreach coordinators.
Learn more about what to expect when you refer a patient.
Other transplant app features
Our easy-to-use tablet and phone app also features:
Detailed information about all Henry Ford transplant programs
Specific outcomes data for each individual transplant program
Criteria for consideration when referring patients for transplant evaluation
Diagnosis and treatment information about liver, pancreas and biliary tumors
A directory of transplant team members at Henry Ford
Publications and educational videos
Speakers Bureau information
A directory of Henry Ford Transplant Institute locations, including outreach clinics