Transfer and Critical Care Transport
Experienced critical care personnel
When your patients require emergent or critical care services that go beyond those your facility can provide, Henry Ford Hospital is ready to partner with you. With one call to 1-866-HFH-BEDS (1-866-434-2337), you are connected to the appropriate care specialist who will guide you in the care of your patient and coordinate the transfer from your facility – 24/7. All it takes is one easy call.
Your patient's care is our priority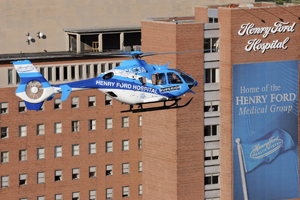 Through our partnership with Superior Ambulance Service, we offer both ground and air transport for your critically ill or injured patients. With Superior Air Med 1 state of the art EC-135p2+ helicopter, we have extended the reach and capabilities of our critical care services.Critical Care Transfer Helicopter at Henry Ford
The Critical Care Transport Team is comprised of critical care nurses and critical care paramedics who have demonstrated excellence in delivering patient care. The team's qualifications include:
Advanced airway capabilities including intubation and surgical airway with competency in advanced airway management, including ventilated patients and chest tube maintenance
Mandatory education in expanded pharmacology and management of intravenous medication delivery, including central line administration and monitoring
Equipment to monitor up to 3 invasive pressures, including art line, cvp, swan, pap, and ICP
Intra arterial balloon pump monitoring capabilities
Smart IV pumps capable of multi-simultaneous medication administration
Cardiac monitoring, including HR, BP, EtCO2, SaO2, pacing and defibrillation 12 lead capable
Certification in Critical Care Flight Nursing and Flight Paramedic, including ACLS, PALS, NRP, PHTLS and Fundamentals of Critical Care Support
Once your patient is on-site at Henry Ford Hospital, we are committed to remaining in constant communication with you to ensure that the patient receives the most coordinated care possible and we promise to promptly return your patient to you after treatment for follow-up care.
Critical Care at Henry Ford Hospital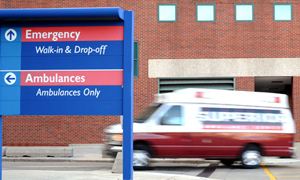 Henry Ford Hospital's ICU complex is the largest in Michigan, treating more than 88,000 ICU patients each year. Research has shown that critically ill patients who are treated by highly trained critical care staff have better outcomes, so we staff our ICUs with multidisciplinary teams that include board-certified intensivists, specialty physicians, nurses, physician assistants, pharmacists, respiratory therapists, physical therapists and dietitians. With this comprehensive, coordinated team approach to patient care our patients consistently exceed national standards for recovery.
Quick facts about quality and safety:
Henry Ford ICU patients average a six-day length of stay (compared to an average of nine days at hospitals without critical care-trained experts)
Bloodstream infections were down 57% in 2009 compared to 2005 and are now virtually eliminated
Ventilator –associated pneumonia rates have dropped 90% in 2009 compared to 2005
Since 2004, mortality rates have dropped from 3.03% to 1.72%