Our Approach to Cancer Research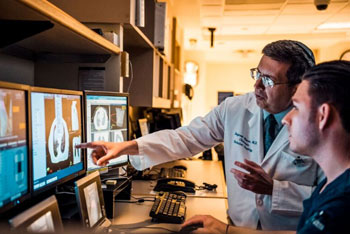 At the Henry Ford Cancer, our cancer research programs reach across departments to connect researchers and clinicians who share common interests in cancer research and clinical care.
A scientific member and clinical member together lead each program. These experts are committed to making our cancer research a success by advancing our knowledge and patient care, with the goal of making cancer's effects more manageable.
Cancer research at Henry Ford is known for strengths such as:
Patient treatment: Most of our research doesn't stay in the lab. Instead, we apply it directly to patient care as soon as it's appropriate. Our close professional relationships between doctors and scientific researchers make this collaboration possible.
Patient-centered outcomes: Our head and neck cancer team is piloting a program that engages patients and caregivers in a patient advisory council. This group has real input into how we treat head and neck cancer. Find out more about our patient-centered head and neck cancer research.
Patient data and specimens: We have an exceptionally strong collection of patient data and specimens. These data and biorepositories provide us with perspective on how best to improve cancer treatment. Learn more about our cancer research cores and shared resources.
Diverse patient population:

Because we're located in a large urban area, our patient population is quite heterogeneous. Specifically, we see many African-American patients -- a population that has been underrepresented in scientific research. Especially as we learn more about genes and biomarkers, we are positioned well to do important cancer research in African-American populations.
In 2009, HFHS established the Health Disparities Research Collaborative (HDRC), led by Christine Joseph, Ph.D. The goal of the HDRC is to support HFHS investigators and affiliates in the conduct of high-quality novel translational research that leads the field of scientific inquiry into disparities in health and health care, and maintain Henry Ford's position of leadership in this mission. The HFHS HDRC research has an interdisciplinary approach in identifying and understanding the underlying reasons for health and health care disparities, touching upon genetic, social, and environmental factors. HDRC researchers not only identify racial differences in morbidity and mortality for specific diseases, but seek to understand how the type, timing or quality of care delivered might alter these patterns.