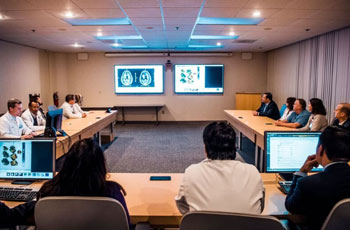 At the Henry Ford Cancer, our research focuses on identifying the causes and progression of cancer and improving its prevention, detection and treatment.
Our investigators study cancer from the tiniest details of genetics to the big picture of cancer imaging and post-treatment survivorship. We work to learn more about cancer, from its earliest detection to the challenges that patients face after completing cancer treatment.
Cancer research programs
Cancer, Epidemiology, Prevention and Control (CEPC)
The CEPC Program has been functioning as a cancer research program since 1996. This program emphasizes cancer health disparities and comparative effectiveness research. The goal would be for the CEPC program to absorb much of the biomarker and clinical effectiveness researchers in the other organ-based research programs.
Mission Statement:
Through innovative population science, reduce and eliminate the burden of cancer and disparities across the cancer continuum in a large diverse health system.
Vision Statement:
Striving to be the foremost leader of cancer and cancer disparities population research in the Midwest.
Translational Oncology
The Translational Oncology program was built off the former Developmental Therapeutics program. This program combines basic researchers and clinical scientists in an effort to foster the clinical translation of cancer research discoveries.
Mission Statement:
Through the combination of basic and clinical science, facilitate the discovery, development, and delivery of new cancer therapies to cure cancer and improve outcomes for cancer patients.
Vision Statement:
A global leader in bringing better health care to cancer patients through innovative research, education and engagement with the community.
Types of cancer research
Every research project we undertake works toward a singular goal: eliminating cancer. We pursue this goal via a variety of different research paths, or types of cancer research. These include:
Immunology Research Program
The Immunology Research Program (IRP) is now the part of Henry Ford Cancer and Center for Cutaneous Biology and Immunology Research, Department of Dermatology, led by Qing-Sheng Mi, M.D., Ph.D. This research program is a sub-program within the larger Translational Oncology Research Program, one of the two major research programs within the Cancer Institute. The IRP focuses on both basic and clinical immunology related to cancer, autoimmune and inflammatory diseases. The IRP enables basic and clinical investigators to work together to advance the battle against diseases through the translational research, ultimately resulting in improved clinical care. Currently, the IRP has two Investigators with three NIH RO1 grants.