Molecular Therapeutics Laboratory
High-grade gliomas are the most prevalent and aggressive central nervous system tumors in the adult population. Despite intensive treatment comprised of maximal surgical resection, radiation and DNA-alkylating agents, high recurrence rate and poor prognosis are still prevalent. Our team is developing a robust pre-clinical experimental therapeutic program for high-grade gliomas, working towards our long-term goal of validating therapeutic targets and combination therapy strategies to inform contemporary molecularly-driven clinical trial design.
The Hermelin Brain Tumor Center at Henry Ford Hospital in Detroit houses one of the largest brain tumor biorepositories in the world, having contributed a high percentage of samples profiled by The Cancer Genome Atlas (TCGA) low-grade glioma and glioblastoma projects. Our lab has leveraged this resource to develop a panel of cancer stem-like cells from freshly resected high-grade gliomas, representing the main genomic abnormalities encountered in the clinic. These cells are used for in vitro studies and to establish patient-derived orthotopic tumor xenografts in mice (PDX).
In high-grade glioma, focal genomic amplification is the most common mechanism of activation of oncogenes. Importantly, we have recently reported that in these tumors oncogene amplifications frequently take place in extrachromosomal DNA instead of within the chromosomes, a feature that is retained in our patient-derived models. This has profound implications for tumor evolution and response to therapy (deCarvalho et al. Nature Genetics, 2018). Using our patient-derived models, we are currently investigating the consequences of targeting putative drivers activated by extrachromosomal oncogene amplification with pharmacological agents in early phase clinical trials. We are also testing the potential of a new therapeutic approach by targeting a prevalent DNA repair pathway to interfere with formation of oncogenic amplicons. In the pre-clinical setting, we can test various schedules, combination therapy, and genomic approaches in the same patient-model, measuring the response at tumor control and at molecular levels, thus generating data that is not possible to obtain from the clinical setting. Our work is funded by an Idea Award from the Department of Defense, the Canadian Institutes of Health Research, small grants from pharmaceutical companies, philanthropy, and institutional funding.
For Research Collaborations
The following survey collects information about the resources that you would like to request from the Hermelin Brain Tumor Center. This initial information will be reviewed by our committee to determine whether the resources you need are available and appropriate next steps. Take the survey.
---
Principal Investigator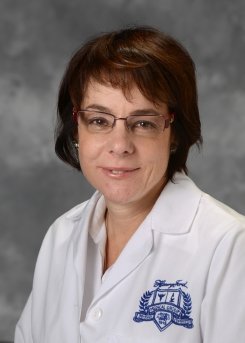 Phone: (313) 916-8636
Associate Scientist
Dept. of Neurosurgery
Henry Ford Hospital
Adjunct Assistant Professor
Departments of Oncology and Pharmacology
Wayne State University School of Medicine
Email: [email protected]
Research Interests
Brain tumor patient-derived models
Tumor evolution, mechanisms of resistance to therapy, target validation, and development of novel therapeutic strategies for high-grade glioma
Oncogene amplification
Developmental programs aberrantly activated in high-grade gliomas as key drivers of plasticity, transient cancer stem cell phenotype and drug resistance
Current Lab Members
Yuling Meng, PhD, Instructor Scientist
Kevin Nelson, BSc. Senior Research Coordinator
Laura Hasselbach, Research Coordinator
Susan Irtenkauf, Research Coordinator
Bart Thomas, Research Coordinator
Oluwademilade Nuga, PhD candidate (year 4), Pharmacology Program, School of Medicine, Wayne State University
Artem Berezovsky, PhD candidate (year 4), Cancer Biology Program, School of Medicine, Wayne State University
Cherish Coleman, Undergraduate student, University of Detroit Mercy and NIH Research Enhancement Building Infrastructure Leading to Diversity (ReBUILDetroit) program
Histology core: Andrea Transou and Nicholas Semaan
Recent Publications
deCarvalho AC*, Kim H, Poisson LM, Winn ME, Mueller C, Cherba D, Koeman J, Seth S, Protopopov A, Felicella M, Zheng S, Multani A, Jiang Y, Zhang J, Nam DH, Petricoin EF, Chin L, Mikkelsen T, Verhaak RGW*. Discordant inheritance of chromosomal and extrachromosomal DNA elements contributes to dynamic disease evolution in glioblastoma. (2018) Nature Genetics 50 (5): 708 – 717 (PMID: 29686388)
Shimada K, Reznik E, Stokes ME, Krishnamoorthy L, Bos PH, Song Y, Quartararo CE, Pagano NC, Carpizo DR, deCarvalho AC, Lo DC, Stockwell BR. Copper-Binding Small Molecule Induces Oxidative Stress and Cell-Cycle Arrest in Glioblastoma-Patient-Derived Cells. (2018) Cell Chem Biol 25(5):585-594 (PMID: 29576531)