Connect for Cancer Prevention Study
What is Connect?
Cancer is the second-leading cause of death in the United States. If we learn how to prevent cancer, we can lower the number of people who get it.

The Connect for Cancer Prevention Study aims to better understand the causes of cancer and how to better prevent it. We are asking you to join Connect so that we can study the health and behavior patterns that may affect cancer risk.

Together, we can change the future of cancer prevention.
What is the Connect for Cancer Prevention Study?
Access the interactive transcript and audio-described version of "What is the Connect for Cancer Prevention Study?" video.
Henry Ford Health is a national study site
Henry Ford Health was selected by the National Cancer Institute to participate in this nationwide study.
Overseeing the study locally from our medical team: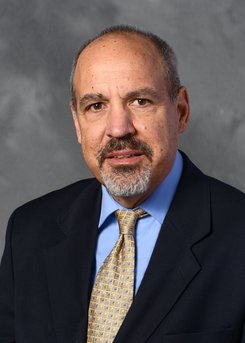 Benjamin A Rybicki, Ph.D.
Enrollment Sites
Henry Ford Health sites that are open for participant enrollment include:
2799 W Grand Blvd, Detroit, MI 48202
(313) 916-2600

29200 Schoolcraft Rd, Livonia, MI 48150
(734) 523-1050
More sites coming soon!
Who can join Connect?
To join Connect, you must:
be a Henry Ford Health patient between 40 and 65 years old when you join
have never had cancer (If you have or once had non-melanoma skin cancer, or a condition that raises the risk of getting cancer, you can still join. Learn more about who can join on the Connect website).
Not sure if you're eligible to join? Please contact the Connect team at Henry Ford Health:
Phone: (855) 574-7540
Email: ConnectStudy@hfhs.org
What can a participant expect?
As a Connect participant, you can expect that:
We will ask you to share access to your electronic health records (EHRs) when you join the study. These records include information about your past, current, or future health status, test results, medical procedures, images (such as x-rays), and medicines you take. Sharing your health records gives researchers a full picture of your health. Seeing the full picture can help us learn what makes some people more likely to get cancer than others.
We will reach out to you when you join the study and then a few times each year to ask for updates about your health and information about things like your habits, diet, exercise, and use of alcohol or tobacco.
We will also ask you to donate samples of blood, urine, and saliva (biological specimens) when you join the study and every two or three years after. These samples provide information about what is going on in your body. Information from different types of samples can help us find health and behavior patterns that may affect cancer risk. Learn more about what to expect on the Connect website. on the Connect website.
Connect will go on for many years, because events that may affect cancer risk happen over a lifetime, and most cancers develop later in life. If you join, we hope you take part for many years. The longer you participate, the more we may learn.
If you choose to participate in Connect, it is important that you continue to follow your healthcare provider's recommendations for any cancer screening tests, such as colonoscopy or mammography. Missing recommended screening or ignoring symptoms could lead to a delayed diagnosis of cancer.
How to join
To learn more and join the study, visit the MyConnect Participant Website.
You can access the MyConnect app by clicking the "Join Now" button on the Connect website.
Email: ConnectStudy@hfhs.org