Are you pregnant? Do you have a family history of asthma? Does your family suffer from allergies?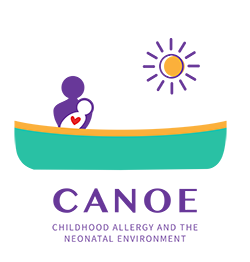 If you answered "yes" to these questions, you may be able to help us get a better understanding on how the everyday environment plays a role in childhood asthma and allergies.
Childhood Allergy and the NeOnatal Environment or better known as (CANOE) wants to learn how the everyday environment and asthma predictors work together.
Study activities involve surveys that can be done over the phone or through email, along with biosample collections that can be done at home and/or at some Henry Ford clinic locations. Your participation means helping future generations.
Is there any more information about the study?
A baby's environment during pregnancy and in early life play a role in the risk of developing childhood asthma. Past studies have shown many reasons are linked with childhood asthma, such as being exposed to allergens, viruses, bacteria, and stress. We are doing this research because there continues to be a strong need to understand the causes of asthma and allergies. The CANOE study is taking part at four different sites in the U.S.: Madison, Nashville, St. Louis, and right here in Detroit! At each site the CANOE study is looking for 125 families to join.
As CANOE is a part of 2 larger programs, Children's Respiratory Environmental Workgroup (CREW) consortium and Environmental Influences on Child Health Outcomes (ECHO) program, CANOE data and samples will also be shared with both. ECHO consists of multiple NIH studies in about 200 locations in the United States (https://www.nih.gov/echo). It is expected that ECHO will have a total study population of about 50,000 children and their families (www.echochildren.org).
Findings from this study will be helpful in diagnosing childhood asthma earlier, and preventing this disease in the future.
How long will the study last?
Being a part of this study will start from when the pregnant women says "Yes!" to join the study, until the child is 36 months old.
Study Timeline and Data We Collect
Who can take part in this study?
Expectant mothers who meet the following criteria may be eligible to enroll:
Are 18 years or older

Pregnant women who speak English

You, and/or the biological father, and/or one of your biological children must have asthma, allergies of the nose, or eczema

Pregnant women planning to deliver in Michigan
How do I join or get more information about CANOE?
Our research team is excited to give you with more information or help you in signing up for the study. Please contact our team at CANOE@hfhs.org or (313) 673-5830.
You could also complete the survey below under 'Ready to Join' to get started!