Henry Ford Cardiology - Jackson
309 Page Ave
Jackson,
MI
49201
Request an Appointment
Our experienced, board-certified cardiologists, interventional cardiologist and electrophysiologists provide comprehensive testing, monitoring, diagnosis and treatment for diseases and abnormalities of the heart and parts of the circulatory system.

Among the services Henry Ford Cardiology - Jackson provides are activity-induced and chemically induced stress tests (electrocardiogram, echocardiogram and nuclear testing); heart monitoring; cardiac catheterization (to identify and locate blocked or narrowed arteries of the heart); angioplasty (a minimally invasive procedure to open blocked arteries and keep them open with a mesh tube called a stent); radiofrequency ablation and cryoablation (procedures to correct irregular heartbeat (arrhythmia)); and electrophysiological (EP) studies (to check the electrical activity of the heart).
Learn more about the Michigan Heart / Henry Ford Jackson Cardiology transition >>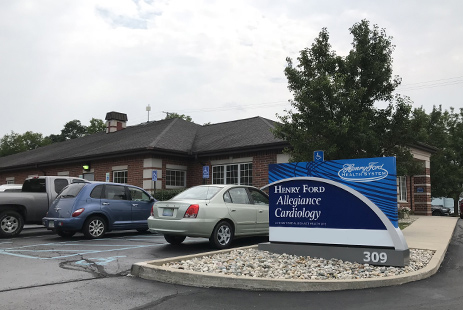 Contact Information and Hours
Phone Numbers
Hours
Monday to Friday
8:00 a.m. to 5:00 p.m.