Campus maps
---
At Henry Ford Hospital, we maintain designated hours for our lobbies and parking services to help create a warm and welcoming environment.
Patients and visitors must be wearing a mask prior to receiving parking assistance and entering the hospital.
Valet Services are offered at the Main Entrance. For your safety, please wear a mask as you pull up to valet your car. Our team will use steering wheel and gear shift covers that will remain in your car until you retrieve it at the end of your time at the hospital. Cost: $8.00
For parking at the Brigitte Harris Cancer Pavilion, visit this page.
Entrance hours
Main Entrance (the front doors on West Grand Boulevard)
5 a.m. – 9 p.m., daily
Valet hours: 5 a.m. – 8 p.m., last car is taken at 5:30 p.m.
East Clinic Entrance (the side entrance off the Lodge Service Drive) Drive Up Pharmacy and Transport Drop Off
6 a.m. – 6 p.m., Monday through Friday
7 a.m. – 1 p.m., select Saturdays for open clinics
Sunday, closed
West Pavilion Entrance (the front western entrance on West Grand Boulevard)
Closed until further notice
24-Hour Entrance (off Poe Street)
---
Self-parking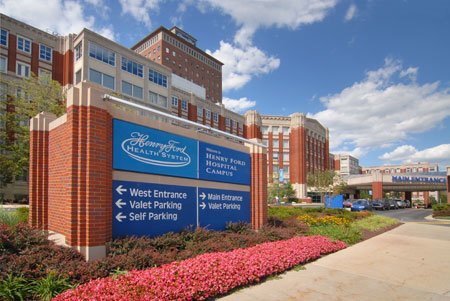 Self-parking is available at no cost. Wheelchairs are provided at all of our entrances. Handicapped-designated parking spaces are in our garages and lots near the entrances.
Visitors can self-park in lots located near each hospital entrance or make use of the parking garage located on the Lodge service drive, at Bethune.
Parking Garage
Monday through Friday, 5 a.m. – 11 p.m.
Saturday, 7 a.m. – 7 p.m.
Sunday, closed
West Pavilion Underground Garage
Monday through Friday, 4:30 a.m. – 9 p.m.
Saturday and Sunday, 9:30 a.m. – 9 p.m.
Emergency Department Parking Lot (Lot 10)