Henry Ford Macomb Hospital Expansion
Transforming to provide the best possible environment for advanced care and healing
Henry Ford Macomb Hospital is launching the largest expansion project since the hospital was built in 1975. The new North Tower and renovation of the existing hospital will elevate the hospital's campus, providing the Macomb County community with the type of healing environment it deserves.
In recent years, the hospital has significantly increased the level of advanced care available, ranging from heart and neurosurgery innovations to trauma services and more. When completed, the expanded and renovated hospital's patient rooms and other areas will match the superior care now available.
Macomb North Tower project groundbreaking
Macomb North Tower Topping Off
All private rooms and more
With the new, five-story, 160-patient room addition and renovation of 107 existing patient rooms, patients and families will experience the healing power of a beautiful, spacious environment with all the high tech and high touch features available. Key benefits of the expansion include:
A total of 361 all-private rooms equaling the current bed count. Room were designed with feedback from patients, families, physicians and other team members and are adaptable to meet the community's growing needs for critical care.
Intensive Care Unit suites will increase from 48 to 60
Newly redesigned main entrance at the hospital's north side
Additional parking and improvements to hospital campus roadways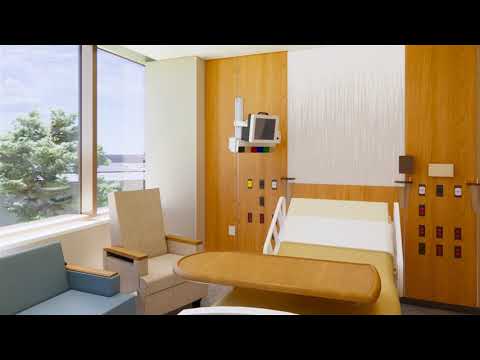 Play
Private Patient Room
Construction of new tower and renovation of existing space will create all private, spacious patient rooms throughout the hospital.
Transformation fast facts
Addition of 225,000-square-feet, five-story, 160-room tower
Will connect to existing hospital with a bridge above the current north entrance
Site work began late in 2020; tower construction began in summer 2021. Tower completion is anticipated in summer of 2023. Renovations to current patient units will begin once the new tower is open, ensuring uninterrupted care during the renovation phase, which will be complete in 2024.
Anticipated construction cost is more than $180 million, with a total project cost estimated at $318 million- making this the largest single healthcare investment in Macomb County history.
Architectural/engineering design by AECOM and construction management services by Barton Malow/Dixon
Help invest in Macomb County's future