Manu Malhotra, M.D., F.A.C.E.P.
Chief Medical Officer, Henry Ford West Bloomfield Hospital and Northwest Market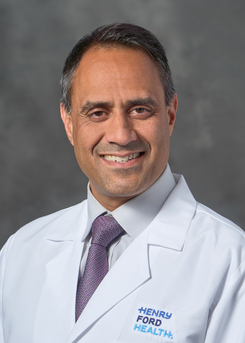 Manu Malhotra, MD, is the Chief Medical Officer (CMO) for Henry Ford West Bloomfield Hospital and the Northwest Market. In his current role, he is responsible for providing clinical leadership to advance innovation and growth, improve patient safety and quality standards, and enhance efficiency of care. His ability to operationalize clinical quality and customer service improvements has helped drive Henry Ford West Bloomfield to best in class performance across multiple domains.
Dr. Malhotra is an Emergency Physician and former medical director of the Henry Ford Hospital Department of Emergency Medicine. He has taken the lead on numerous patient safety initiatives and quality programs, including formation of the Urgent Airway Team and the length of stay initiative. He also has been the principal investigator on several research studies evaluating health care delivery and process improvement.
Dr. Malhotra earned his medical degree from the Medical College of Ohio, an MBA from the University of Michigan and completed his residency in Emergency Medicine at HFH. Outside of Henry Ford, Dr. Malhotra is an assistant clinical professor at Wayne State University and a fellow of the American College of Emergency Physicians. He is a member of several local and national societies and serves on many state and local boards/committees.