Dr. Klausner Fights COVID-19 in Detroit, Texas and Montana
December 9, 2020
DETROIT (December 9, 2020) – Howard Klausner, M.D., a Henry Ford Hospital emergency medicine physician and member of Michigan's Disaster Medical Assistance Team (DMAT), has been deployed to some of the most devastating disasters in recent memory: 9/11 in New York, Hurricane Katrina in New Orleans, Hurricanes Maria and Irma in Puerto Rico and wildfires in California. But his deployments to provide disaster relief medical care in 2020 were unique for their volume and magnitude.
"This is the first year I've ever deployed twice," he said. "In fact, I could have deployed even more had I had more availability.
"For me personally, it's validation that COVID is everywhere. You see things on the news and there's a healthy amount of skepticism, whether it's slanted or bias or you're in denial about what you see. I have the experience that most people don't. I saw it first-hand in multiple areas across the country. You see how widespread the problem is and how dire it is in some areas. COVID is in big cities, it's in small cities, it's in poor areas, it's in better resourced areas, it's in urban areas, suburban areas and in rural areas of America."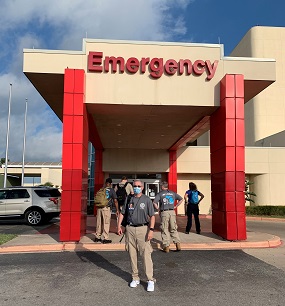 Dr. Klausner's first experience caring for COVID patients was at the 877-bed Henry Ford Hospital in Detroit during the first surge of the pandemic in March and April, when little was known of the coronavirus and treatment and equipment protocols were evolving every day. Those early days gave him valuable insight for the two deployments to follow: at a 127-bed hospital in southern Texas in July during which the summer heat reached into the 100s and at a 160-bed hospital in Great Falls, Montana, where he spent the first 12 days of November.
"When things were gearing up here in Detroit, it seemed like every day, something was changing. There was a different procedure. Patients were going to this area or that area. How we did resuscitations changed. It took a bit of time to get to that steady stage," he said. "So, I was ready for what a steady stage should have looked like. In order to give recommendations or before I went into a building, I always wanted to make sure I had my N-95 mask on. It's the little things like that I had as a given."
Dr. Klausner said the deployments raised their own safety concerns that prior disaster relief stints did not.
"I was concerned about my own safety, more so than any of the other deployments," he said. "With Katrina, we were a little concerned about personal safety because of so much social disruption that had occurred in the area. We had our own federal police force that came with us. This was a situation where I was personally at risk. COVID-19 is the invisible enemy. The scary point is not knowing the contagiousness of the actual disease."
Both the Texas and Montana hospitals were overwhelmed by COVID patients at the time of Dr. Klausner's deployments. Both of their emergency departments were holding patients until a hospital bed became available. It could take up to eight hours for EMS to unload a patient at the Texas hospital because there was no place to put them. Staff there were forced to convert general practice and pediatric units into makeshift ICU to keep up with the number of patients requiring hospitalization. To underscore the acuity of patients, Dr. Klausner said the hospital didn't have a single patient come off a ventilator while he was there.
"They didn't know at the time where that equilibrium point was going to be. They were putting people on ventilators, but they weren't getting people out the other end (getting better and going home)," said Dr. Klausner, who provided hospital assessments and rounded in the emergency department.
In Montana, about one-third of the 185 patients were being treated for COVID. Dr. Klausner rounded in the ICU alongside the hospital's intensivist.
"They seemed better resourced but were still at capacity," he said. "Why (Montana) has so much COVID no one really seemed to know. Some of the locals blamed it on the summer tourism season. They have a mask mandate there just like (Michigan). I didn't see anyone not wearing a mask. In a state with a population of 1 million, they said they had 2 million visitors over the summer."
At the time Dr. Klausner flew to Texas the airline industry was just starting to ramp up their flight schedules. Surprisingly, the flight was full including the middle seats. "When we started to board, the airline made an announcement saying they wanted us to stay six feet apart in line. A guy next to me, says 'this is ridiculous. We're all going to be next to each other anyway in about five minutes.'"
After each deployment, there is time for reflection. Dr. Klausner has seen the best of humanity at the worst time of people's lives. He emphatically believes he and the Michigan disaster assistance team make a difference.
"Anytime they send us, the need is tremendous," he said. "We do a little bit of good and I always think we could have been doing more."
The pandemic, though, has proven to be unrivaled on many fronts including the thousands who have fallen sick and died in the United States and the duration. December will mark the 10th month since Michigan's first COVID patient. It also has robbed families of a long-held custom.
"It really tears at your heart strings that when somebody is at the end of their life in the hospital, their family members can't be gathered around. (Visitor restrictions are imposed at hospitals for the safety of patients and staff). To me, that's something that's going to stay with families who have lost loved ones to COVID-19 or have loved ones who were hospitalized and survived," he said. "Visiting the sick is very important. It's an act of kindness that people can do. And it's good for the person doing it as well as the person who is ill. I remember one woman who was at the end of her life and her family wasn't there. I could only imagine how difficult it was for her and her family as well."
About Henry Ford Health System
Founded in 1915 by Henry Ford himself, Henry Ford Health System is a non-profit, integrated health system committed to improving people's lives through excellence in the science and art of healthcare and healing. Henry Ford Health System includes six hospitals including Henry Ford Hospital in Detroit; Henry Ford Macomb Hospitals; Henry Ford Wyandotte Hospital; Henry Ford West Bloomfield Hospital; Henry Ford Allegiance in Jackson, MI; and Henry Ford Kingswood Hospital – an inpatient psychiatric hospital.
Henry Ford Health System also includes Henry Ford Medical Group: Henry Ford Physician Network; more than 250 outpatient facilities; Henry Ford Pharmacy; Henry Ford OptimEyes; and other healthcare services. Our not-for-profit health plan, Health Alliance Plan – HAP – provides health coverage for more than 540,000 people.
As one of the nation's leading academic medical centers, Henry Ford Health System trains more than 3,000 medical students, residents, and fellows annually in more than 50 accredited programs, and has trained nearly 40% of the state's physicians. Our dedication to education and research is supported by nearly $100 million in annual grants from the National Institutes of Health and other public and private foundations.
Henry Ford Health System employs more than 33,000 people, including more than 1,600 physicians, more than 6,600 nurses and 5,000 allied health professionals. For more information, go to henryford.com.
###
MEDIA CONTACT: David Olejarz / David.Olejarz@hfhs.org / 313.303.0606