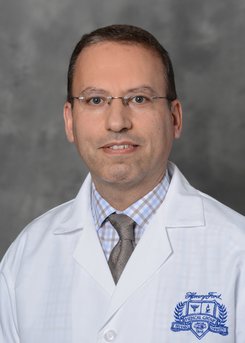 Rashid F Alsabeh, MD
Specialties: Internal Medicine
Board Certification and Education
Board Certifications
American Board of Internal Medicine - Internal Medicine
Education
Damascus University School of Medicine, 1990
Residencies & Internships
Henry Ford Hospital, Internal Medicine, MI, 1995
About Me
Biographical Statement
As a physician with over thirty years of clinical experience in primary care, Dr. Rashid Alsabeh has a dedicated and uniquely patient-centered way of practicing medicine. He is committed to further learning, accumulating hundreds of hours of continuous medical education courses:
"I know that medicine is a constantly expanding field. For that reason, physicians have a responsibility to keep up with new research in order to provide their patients with the highest quality of effective, evidence-based treatments."
Additionally, Dr. Alsabeh always seeks new skills and technologies which will benefit his patients. He currently uses a hand-held ultrasound device to widen his diagnostic capabilities and enhance patient experience. In the last two years, he's been able to not only detect emerging diseases, but also educates patient about them — showing them their pathology in real-time.
Care Philosophy
"Medicine is more than just the observation and treatment of the body, it involves the entire patient. I'm sensitive to the fact that patients often seek a fuller understanding of their illness and ways of healthier living. As a primary care physician, I have always ensured that my patients never leave my exam room with doubts or questions. I take the time to be fully present and receptive to their concerns."
Communication Philosophy
"As a foreign-born doctor, I have an intimate understanding of and appreciation for cross-cultural communication. When examining patients from different cultural background, I use a different set of signs to communicate my meaning and to interpret theirs. Being a competent clinician involves being able to engage with a diversity of patient backgrounds.
"Medicine plays a special cultural role in our society. Patients look to me not only for the right treatment, but also for reassurance and as a source of support and affirmation. I incorporate these patient-centered aspects into my clinical practice, and make them just as important as my knowledge of diseases."
Locations
6530 Farmington Rd
Ste 102
West Bloomfield,
MI
48322
Henry Ford Hospital
Henry Ford West Bloomfield Hospital