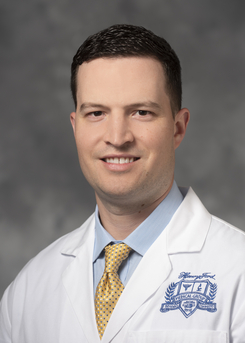 Ryan J Berger, MD
Specialties: Orthopedic Surgery
Board Certification and Education
Education
Florida State University College of Medicine, FL, 2015
Residencies & Internships
Cleveland Clinic Foundation, Orthopaedic Surgery, OH, 2020
Fellowship
OrthoCarolina, Spine Surgery, 2021
About Me
Biographical Statement
Ryan J. Berger, M.D., is a fellowship-trained orthopaedic spine surgeon. He completed his residency at Cleveland Clinic, where he trained in a hybrid environment with neurosurgeons and orthopaedic spine surgeons. In this setting, he gained extensive experience in scoliosis surgery, complex deformity and revision. He then completed his spine fellowship at OrthoCarolina Sports Medicine Center, one of the top programs in the nation. He has multiple peer-reviewed publications and a particular interest in quality improvement and healthcare technology. He is well-trained in a variety of techniques encompassing the entire spine including robotic, navigated, minimally invasive and open surgery.
Titles
Senior Staff Spine Surgeon, Department of Orthopaedics
Care Philosophy
"I understand that surgery, especially spine surgery, is a major life event and can be intimidating for many patients. My goal is to make patients as comfortable as possible in the shared decision-making process by providing ample education, support, non-operative alternatives to care, availability to address their concerns, and compassion for their individual problems."
Research Interests
Quality Improvement
Healthcare technology
Healthcare Economics
Deformity/Scoliosis
Awards & Honors
Alpha Omega Alpha
Gold Humanism Honor Society
Henry Ford Hospital
Henry Ford West Bloomfield Hospital