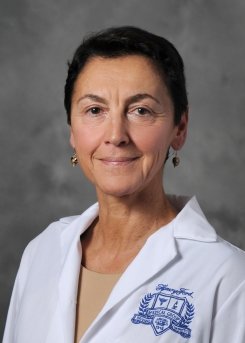 Jadranka Dragovic, MD
Specialties: Radiation Oncology
Board Certification and Education
Board Certifications
American Board of Radiology - Therapeutic Radiology
Education
University of Belgrade, 1977
Residencies & Internships
Kingston General Hospital, Radiology, 1983
Queen's University Postgraduate Medical Education, Radiation Oncology, ON, 1982
University Clinics, 1978
Fellowship
McMaster University, Radiation Oncology, ON, 1984
About Me
Titles: Medical Director, Edith McNaughton Ford Radiation Oncology, Henry Ford Medical Center - Cottage, Grosse Pointe
Biographical Statement:
Dr. Dragovic attended medical school at Medical Faculty - University of Belgrade, Yugoslavia and received her masters degree from McMaster University in Hamilton, Canada. She completed her post-graduate training at Queen's University, Kingston, Ontario, Canada (Ontario Cancer Foundation), and Gordon Richards Fellowship (Clinical Epidemiology and Biostatistics), McMaster University & Ontario Cancer Foundation, Hamilton, Ontario, Canada. Dr. Dragovic's clinical and special medical interests include treatment of all adult cancers with special interest in head & neck cancer, breast cancer, lymphoma and sarcoma. She participates in clinical trials and treats patients with up to date modalities (IMRT, SBRT, SRS). She is involved in the application of cutting edge, novel treatment approach using the ViewRay machine (MRI linear accelerator).

She is also active in the community - serving on the Advisory Board of The Lake House (Southeastern Michigan Cancer Support Program)
Philosophy
My goal is to provide personalized and compassionate care to every patient, combining my technical and clinical expertise with a "soft touch" approach. Patients today seek more information and request to take part in the decision making process. My philosophy is that a well informed patient is a satisfied patient. My team of co-workers and I invest plenty of time in patient education, making sure our patients get the answers to all their questions and have easy access to us on a daily basis.
Awards and Honors
Board certified by the American Board of Radiology: Radiation Oncology and FRCPC
Member, American Society of Clinical Oncology, American Society of Therapeutic Radiology and Oncology, Michigan Society of Therapeutic Radiology and Oncology, American Medical Association and the American College of Radiation Oncology.
Medical Student of the Year Award in 1975, 1976, and 1977
Gordon Richards fellowship award by the Canadian Cancer Society in 1983
ARRO Best Teacher Award in 2000
Languages
English, Serbian
Locations
19675 Allen Rd
Brownstown,
MI
48183
Henry Ford Macomb Hospital - Clinton Township
15855 19 Mile Rd
Clinton Township,
MI
48038
159 Kercheval Ave
Grosse Pointe Farms,
MI
48236
Henry Ford Hospital
Henry Ford Jackson Hospital
Henry Ford Macomb Hospital - Clinton Township
Henry Ford West Bloomfield Hospital
Henry Ford Wyandotte Hospital