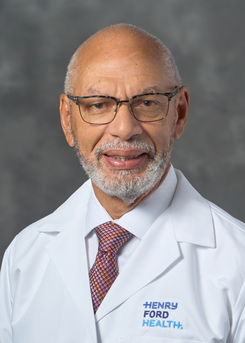 Paul A Edwards, MD
Specialties: Ophthalmology
Services: Diabetic Retinopathy, Eye Cancer , Eye Care , Macular Degeneration , Macular Edema , Retinal Conditions , Uveitis , Visual Electrophysiology
Board Certification and Education
Board Certifications
American Board of Ophthalmology - Ophthalmology
Education
University of the West Indies, 1979
Residencies & Internships
Henry Ford Hospital, Ophthalmology, MI, 1992
National Institute of Health, Ophthalmology, MD, 1987
Harlem Hospital Center, General Surgery, NY, 1982
Washington Hospital Center, General Surgery, 1982
University Hospital Of The West, 1980
Fellowship
Henry Ford Hospital, Ophthalmology, MI, 1993
National Eye Institute, MD, 1989
About Me
I specialize in Retina, Diabetes and Macular Degeneration.
Dr Edwards is the distinguished Cornelius E. McCole Chair of Ophthalmology and Eye Care Services at Henry Ford Hospital. He is responsible for one of the largest Eye Care departments in the United States. In partnership with Henry Ford OptimEyes (the Optical and Optometry division), Henry Ford has 375,000 patient visits per year for eye care. He graduated from the University of the West Indies and completed his residency in Ophthalmology at Henry Ford Hospital. In addition, he did a fellowship in Vitreo-retinal diseases at Henry Ford and a research fellowship at the National Eye Institute. His clinical interests include diseases of the vitreous and retina, including Macular Degeneration, Diabetic Retinopathy and Genetic Disorders. Dr. Edwards is named as one of America's Top Ophthalmologist by the Consumer Research Council of America and by Hour magazine as a Detroit Top Doctor as nominated by his peers.
Philosophy
I believe in giving my patients the highest possible quality care. I like to provide them with information about their disorders so they can make better informed decisions and in partnership together we can take better care of the problem. I treat my patients with respect and dignity. I believe in continuous education for physicians to remain up to date.
Awards and Honors
1970: First Place in Graduating Class - Glenmuir High School 1979: Honors Obstetrics and Gynecology - University of the West Indies 1991: Second Place - David Barsky Research Award, Henry Ford Hospital 1992: Chief Resident in Ophthalmology - Henry Ford Hospital 1994: Visiting Professor of Ophthalmology, University of the West Indies 1994-present: Annual inclusion in Marquis' Who's Who in Medicine and Health Care 1996-97: Member of the Board for the Michigan Affiliate, American Diabetes Association 1997-present: Member of the Board of the Bridge Builders 1998: Member of the Board of Student Mentor Partners 2002-present: Annual inclusion in Consumer Council of America – Guide to America's Top Ophthalmologists 2002-present: Chairman of Ophthalmology at Henry Ford Health System 2003-present: Annual inclusion in Detroit Hour Magazine: Top Doctors in Ophthalmology 2003: Glenmuir Past Students' Association: Flagrans Gold Award for Outstanding Achievement in Healthcare
Locations
2799 W Grand Blvd
K10
Detroit,
MI
48202
29200 Schoolcraft Rd
Livonia,
MI
48150
Henry Ford Hospital
Henry Ford Jackson Hospital
Henry Ford West Bloomfield Hospital