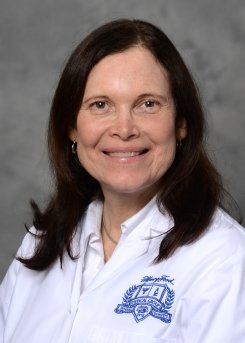 Anne K Eshelman, PhD
Specialties: Psychologist
Services: Health Psychology
Board Certification and Education
Board Certifications
American Board of Professional Psychology - Psychologist
Education
Wayne State University, Psychology, MI, 1983
About Me
Care Philosophy:
I help patients manage medical stressors and behavioral side effects of lifesaving treatments to improve quality of life. Helping patients understand and communicate well with their doctors and have the information to make decisions for themselves are important for autonomy and mutual respect.
Biographical Statement:
Dr. Elshelman works with Henry Ford Transplant to provide rapid assessment with quick and effective treatments plans for patients facing serious illness while undergoing the transplant process. She helps her patients meet the psychiatric and substance abuse requirements so they can be listed for transplant and address any issues after transplant has occurred. She believes in working closely with her patients' families to create support networks that help contribute to long term transplant success.

Dr. Eshelman earned her Ph.D. in clinical psychology from Wayne State University in 1983. She has been a senior staff health psychologist with Henry Ford Transplant since 1985. Dr. Eshelman completed an internship in Health Psychology with Henry Ford Hospital.

Research Interests:
Dr. Eshelman is currently researching how to improve processes used to prepare patients for successful transplant and improve the quality of life after transplant.
Awards and Honors:
Phi Beta Kappa and College Honors, Earlham College, 1974
Teacher of the Year Awards, Henry Ford Health Behavioral Health, 1995, 1996, 2002, 2008, 2011, 2012
American Psychological Association Timothy Jeffrey Memorial Award for Outstanding Contributions to Clinical Health Psychology, 2007
Henry Ford Health Shadow of the Leader Award, 2016


Henry Ford Hospital
Henry Ford West Bloomfield Hospital