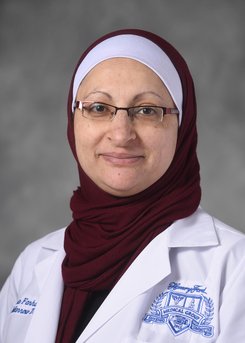 Shatha Y Farhan, MD
Specialties: Hematology, Medical Oncology
Board Certification and Education
Board Certifications
American Board of Internal Medicine - Hematology
American Board of Internal Medicine - Internal Medicine
American Board of Internal Medicine - Medical Oncology
Education
University of Jordan, 2003
Residencies & Internships
Henry Ford Hospital, Internal Medicine, MI, 2008
Jordan Hospital and KHCC, Internal Medicine, 2005
University of Jordan, Internal Medicine, 2005
Fellowship
University of Texas - MD Anderson Cancer Center, Bone Marrow Transplant, TX, 2012
Henry Ford Hospital, Hematology/Oncology, MI, 2011
About Me
Titles:
Clinical Assistant Professor, Wayne State University School of Medicine
Biographical Statement:
Shatha Farhan, MD, is a specialist in blood and marrow stem cell transplantation.
During Dr Farhan's clinical training as hematology oncology fellow at Henry Ford, she managed difficult-to-treat leukemia and lymphoma. This exposure motivated her to investigate this area and obtain additional training in stem cell transplant at MD Anderson Cancer Center and Fred Hutch Cancer center. Some patients who need transplants may need rapid access to this procedure that can save lives, however, not all patients have matched related or unrelated donors. Hence, Dr Farhan is interested in haploidentical stem cell transplantation. This option along with cord transplant are important because they mean that patients no longer need to delay transplantation while waiting for a perfect or near-perfect donor match. She is also interested in immuno-modulating agents and targeted therapy as maintenance post stem cell transplantation for high-risk diseases.
She is a member of the American Society of Clinical Oncology, the American Society of Hematology, and the American Society for Blood and Marrow transplantation. She is also part of the Hematology Oncology Fellowship program Clinical Competency Committee (CCC), Henry Ford Health System Pharmacy and Therapeutics Committee and the Hematology Oncology Department Peer Review Committee.
Research Interests
Cellular component of the graft and effect on stem cell transplant outcome
The use of cellular immunotherapy post stem cell transplantation to decrease relapse and increase immune reconstitution
Improving reduced-intensity conditioning regimens to continue the reduced transplant related mortality but decrease relapse related mortality.
The use of immuno-modulating agents and targeted therapy as maintenance post stem cell transplantation for high-risk diseases
Awards and Honors
American Society of Hematology-Abstract Achievement Award 2011
Teaching fellow of the year/Henry Ford Hospital 2011
Dudeck Award Research Award 2010
Doctors Dilemma Competition 2007-Awarded first place in the Doctor's Dilemma competition representing the Michigan chapter
Medical school Graduation Award 2003
Locations
2800 W Grand Blvd
Detroit,
MI
48202