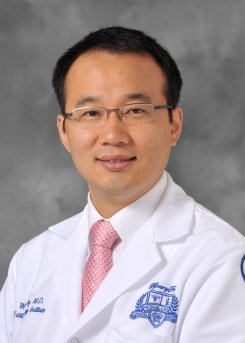 Wooju Jeong, MD
Services: Bladder Cancer, Cancer Surgery , Enlarged Prostate , Hematuria , Kidney Cancer , Men's Health , Penile Cancer , Prostate Cancer , Testicular Cancer , Urology , Video Visits
Board Certification and Education
Residencies & Internships
Yonsei University Wonju Christian Hospital, Urology, 2003
Yonsei University Wonju Christian Hospital, 1999
Fellowship
Henry Ford Hospital, Urology, MI, 2013
Yonsei University, Minimally Invasive Surgery/Bariatric Surgery, 2009
About Me
Biographical Statement
Dr. Wooju Jeong was trained at one of the top medical centers in Korea — Yonsei University — home to the largest multi-specialty robotic program in the world. He joined Henry Ford Hospital's Vattikuti Urology Institute in 2009 and has been involved in evolving various robotic surgical techniques, such as an ice cooling technique for kidney surgery and kidney transplant surgery, the Retzius sparing prostatectomy and precision prostatectomy. He has performed more than 3,500 robotic cases and some live surgery demonstrations, and has been invited to lecture on prostate cancer and kidney cancer at various robotic conferences in the US, Italy, Spain, India and China.
Dr. Jeong is a leading surgeon working on new surgical techniques for the treatment of prostate cancer, such as precision prostatectomy and Retzius sparing prostatectomy. He has worked on cutting-edge surgical methods for prostatectomy. This involves removing the cancer while preserving sexual function and urinary continence. This approach has shown great promise and we are expecting it to be the gold standard for treating prostate cancer in the next few years. He is also an expert surgeon for Retzius sparing prostatectomy. He has performed more than 300 Retzius sparing prostatectomies at Henry Ford Hospital. The Retzius sparing approach involves removing the prostate gland without changing the position of the bladder. Worldwide, Dr. Jeong is one of the few surgeons who is performing this procedure.
Dr. Jeong has been published over 70 peer-review papers and several book chapters. He has also trained multiple residents and clinical fellows as well as proctoring urologists in India and China.
Locations
2799 W Grand Blvd
K9
Detroit,
MI
48202
40777 Ann Arbor Rd
Plymouth,
MI
48170
6777 W Maple Rd
West Bloomfield,
MI
48322
Henry Ford Hospital
Henry Ford Jackson Hospital
Henry Ford Macomb Hospital - Clinton Township
Henry Ford West Bloomfield Hospital
Henry Ford Wyandotte Hospital