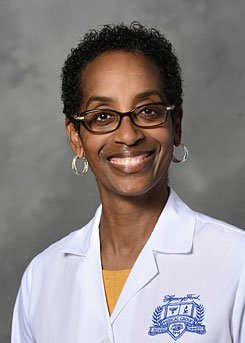 Board Certification and Education
Board Certifications
American Board of Pediatrics - Pediatrics
Education
Mayo Clinic School of Medicine - Minnesota Campus, MN, 1996
Residencies & Internships
Boston Children's Hospital, Pediatrics, MA, 1999
Boston Children's Hospital, Pediatrics, MA, 1997
Fellowship
Boston Children's Hospital, Pediatrics, MA, 1999
About Me
Biographical Statement
Dr. Johnson-Hooper has been practicing pediatrics for over 20 years at New Center One. She is the medical director for the Center for Autism and Developmental Disabilities (CADD) as well as one of the providers for the CADD multidisciplinary diagnostic team. In furtherance of her commitment to CYSHCN, her practice quality improvement efforts have focused on a patient's transition from a pediatrics to an adult approach to healthcare, developmental screening and integrative behavioral health initiatives.
Dr. Johnson-Hooper has presented at numerous domestic and international venues and is a respected leader in her areas of practice. Her presentations include:
Health Care Transition for Youth with Autism Spectrum Disorder, 9th Annual Autism Conference, Legos, Nigeria (July 2019)
Screen Time: How Much is Too Much? Medical Concerns and Behavioral Tips, Metro Parent Living with Autism Conference, Detroit, Michigan (May 2018)
Making the Medical Home Work, The Massachusetts Chapter of the American Academy of Pediatrics 2015 Annual CME Program and Business Meeting Waltham, Massachusetts (May 2015)
Developmental Screening, National Medical Association Annual Convention and Pediatric Section Scientific Assembly, Detroit, Michigan (August 2015)
She is eager to share her perspective and experience caring for children with special health care needs, diagnosing and managing autism spectrum disorder, implementing the health care transition process from pediatric to adult medicine, and advocating the importance of reading aloud and literacy.
Care Philosophy
"I have maintained a long-standing interest in advocating for children with disabilities. My primary care practice has focused on providing high quality, comprehensive primary care for all children, but especially children and youth with special health care needs (CYSHCN). I view primary care as a collaborative endeavor incorporating the parents, specialists, therapists, educators and community resources working to maximize the health and wellness of a child."
Locations
9100 Brombach
Hamtramck,
MI
48212
3031 W Grand Blvd
Detroit,
MI
48202