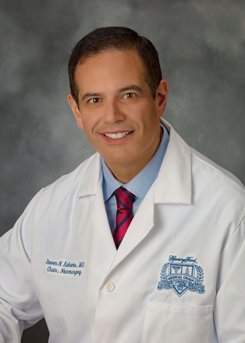 Steven N Kalkanis, MD
Specialties: Neurological Surgery
Board Certification and Education
Board Certifications
American Board of Neurological Surgery - Neurological Surgery
Education
Harvard Medical School, MA, 1997
Residencies & Internships
Massachusetts General Hospital, Neurosurgery, MA, 2003
Massachusetts General Hospital, Surgery, MA, 1998
About Me
Biographical Statement
Steven Kalkanis, M.D., CEO of the Henry Ford Medical Group (HFMG) and Senior Vice President and Chief Academic Officer of Henry Ford Health System, provides strategic leadership and direction over the 1,900-member HFMG physicians and researchers responsible for all aspects of clinical performance across 40 specialties. Dr. Kalkanis works to advance the health system's academic mission including the development and growth of all research and medical education programs.
Dr. Kalkanis joined Henry Ford in 2004 as a board-certified neurosurgeon after completing neurosurgical residency training at the Harvard - Massachusetts General Hospital program. In May 2014, he was named chair of Henry Ford's Department of Neurosurgery, which is nationally recognized for research and clinical excellence.
An internationally recognized brain tumor expert, Dr. Kalkanis serves as president of the Congress of Neurological Surgeons, the largest association of its kind and as a Director of the American Board of Neurological Surgery, the profession's highest honor.
Actively involved in clinical trials and research, Dr. Kalkanis leads a translational research laboratory investigating the molecular genetic differences between short- and long-term brain tumor survivors with the goal of refining future personalized medicine treatment protocols.
Titles
Senior Vice President and Chief Academic Officer, Henry Ford Health
Professor & Chairman

Emeritus

, Department of Neurosurgery
Mark L. Rosenblum Endowed Chair in Neurosurgery
Founding Medical Director, Henry Ford Cancer Institute
As a member of the Hermelin Brain Tumor Center team, I specialize in the treatment of all brain tumors including clinical trials; intracranial neurosurgery, spinal cord tumors, adult cervical and lumbar spine disease, general neurosurgery and stereotactic neurosurgery.
Research Interests
Targeted cell-based therapy for the treatment of malignant gliomas
Viral gene therapy and stem cell delivery for novel brain cancer therapies
Survival-associated genetic studies for the development of personalized medicine protocols for brain tumor patients
Awards and Honors
Michigan's Top Docs, Detroit Hour Magazine (2008 - 2020)
Director, American Board of Neurological Surgery
National Executive Committee member, Congress of Neurological Surgeons (CNS)
National Executive Committee member, Joint Tumor Section Chair
National Tumor Section Guidelines Committee member
Lead Author of the national guidelines for the treatment of brain metastases
Editor, Neurosurgery Journal
National first-place research award recipient, American College of Surgeons
National first-place research award recipient, CNS
Director, American Board of Neurological Surgery
Past Chair, American Association of Neurological Surgeons/CNS Section on Tumors
Past President, CNS
Past President, Michigan Association of Neurological Surgeons
Locations
6777 W Maple Rd
West Bloomfield,
MI
48322
Henry Ford Hospital
Henry Ford West Bloomfield Hospital