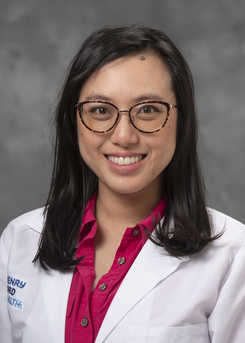 Kim H Le, MD
Specialties: Ophthalmology
Services: Eye Movement Disorders, Pediatric Ophthalmology
Board Certification and Education
Board Certifications
American Board of Ophthalmology - Ophthalmology
Education
Texas Tech Univ. Health Science Ctr, TX, 2012
Residencies & Internships
University of Texas Southwestern Medical School, Ophthalmology, TX, 2016
John Peter Smith Hospital, Transitional, TX, 2013
Fellowship
Children's National Medical, Pediatric Ophthalmology, DC, 2017
About Me
Care Philosophy:
Education is extremely important in my family and is a strong part of my practice. I love working with kids and their parents, helping them to understand the process from diagnosis to treatment. Parents are understandably concerned when their child has an eye condition, but for children, it can be even worse. No matter what age, even an initial exam can be stressful for children, who may not understand and may not be able to verbalize their symptoms or anxiety. I work to put them at ease and make it fun, including using props such as toys to help keep them engaged and distracted so I can minimize their stress while I examine them.
Biographical Statement:
I treat a wide range of pediatric vision problems, including strabismus, glaucoma, cataracts, congenital eye problems and retinal diseases. I'm also passionate about international mission work, and I have performed eye surgeries around the world for patients who couldn't afford it.
Languages
English, Mandarin, Spanish, Vietnamese
Henry Ford Hospital
Henry Ford West Bloomfield Hospital