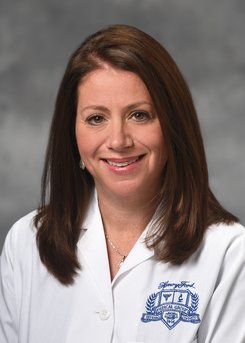 Carrie F Leff, DO
Specialties: Internal Medicine, Pediatrics
Board Certification and Education
Board Certifications
American Board of Internal Medicine - Internal Medicine
American Board of Pediatrics - Pediatrics
Education
Midwestern University Chicago College of Osteopathic Medicine, IL, 2001
Residencies & Internships
Beaumont Hospital - Royal Oak, Internal Med/Peds, MI, 2006
Beaumont Hospital - Farmington Hillls (fka Botsford General Hospital), Internship, MI, 2002
About Me
Biographical Statement
I am a board-certified pediatrician and internist with certification as a menopause provider from the North American Menopause Society. My primary interests lie in women's and adolescent female health. Our medical needs change with each decade of life. As a pediatrician and internist, I have developed skills that allow me to listen, treat and respect the women I care for.
I am specifically trained to help transition adolescent girls who are outgrowing their pediatric practices to a medical home that will better fit their needs. The comprehensive care that I provide for this group of patients, includes:
Primary care for adolescents
Treatment of dysmennorhea (period problems)
Contraception
Routine gynecological care
Treatment of adjustment disorders and mood issues
Coordination of care and medical treatment of patients with eating disorders
In 2015, I founded a program called Turning Teen. This program provides educational workshops to help transition adolescents through puberty without shame or embarrassment. Developing these programs has deepened my understanding of the current medical and psychosocial issues that teens and tweens face. I enjoy sharing this knowledge to help parents successfully navigate their children through this often difficult transition.
In November of 2019, my first book, "Celebrate your Body 2: The Ultimate Puberty Book for Preteen and Teen Girls," was released. This book is a body-positive guide to puberty for girls ages 10 and older.
After women move through their childbearing years, they are often in need of a primary care medical home. Their medical needs have changed and so should their physician's approach. I enjoy getting to know women both medically and personally to help me understand them completely. My clinical interests regarding adult female patients include:
Menopause
Sexual health
Breast health
Contraception
Treatment of mental health issues
I am passionate about my career and my family, and am the mother of three growing daughters who challenge and inspire me daily. I consider myself a professional multitasker, a frequent thinker and believer in the power of girls and women.
Dr. Carrie Leff is approved as a licensed telemedicine provider in both the states of Michigan and Florida.
Locations
1961 S Telegraph Rd
Bloomfield Township,
MI
48302