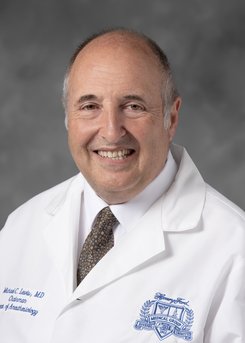 Michael C Lewis, MD
Specialties: Anesthesiology
Services: General Anesthesiology
Board Certification and Education
Board Certifications
American Board of Anesthesiology - Anesthesiology
Education
University College London, Medicine, 1983
Residencies & Internships
Jackson Memorial Hospital, Anesthesiology, FL, 1995
Einstein Medical Center Philadelphia, Internal Medicine, PA, 1992
Edware General Hospital, Anesthesiology, 1990
Rabin Medical Center (Ichilov), Anesthesiology, 1989
Shaare Zedek Hospital, Anesthesiology, 1987
Hadassah University Hospital, Oncology, 1986
Kidderminster General Hospital, Anesthesiology, 1985
Whittington Hospital, Internal Medicine, 1984
About Me
Titles:
Joseph L. Ponka Chair, Professor of Anesthesiology, Wayne State University
Biographical Statement:
Since October 2015 I have been the Chair here at Henry Ford. I received my medical education in the United Kingdom at University College London. Following this I underwent professional training in Anesthesiology in the UK, Israel and the US. My career was built at the University of Miami where I served as Chief of the VA service, Medical Student Clerkship Director, and for many years as Residency Program Director. During my time at Miami I was a Fulbright Scholar. I served as senior Associate Dean for GME. In 2013 I accepted the job as Chair of Anesthesiology at the University of Florida College of Medicine in Jacksonville. I served in that role until October 2015 when I became Chair here at Henry Ford.
Research Interests: Geriatric Anesthesiology
Awards and Honors:
Hartford Awardee American Geriatric Society
Fulbright Scholar
Teaching Awards at Miller School of Medicine, University of Miami, University of Florida College of Medicine-Jacksonville
Languages
English, Hebrew
Henry Ford Hospital
Henry Ford Jackson Hospital
Henry Ford West Bloomfield Hospital