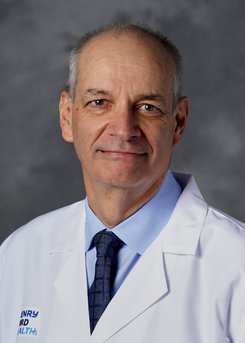 Timothy J Nypaver, MD
Specialties: Vascular Surgery, Surgery
Board Certification and Education
Board Certifications
American Board of Surgery - Surgery
American Board of Surgery - Vascular Surgery
Education
Loyola University of Chicago, IL, 1985
University of Notre Dame, IN, 1981
Residencies & Internships
Cook County Hospital/Univ of Illino, Surgery, IL, 1990
Cook County Hospital/Univ of Illino, Surgery, IL, 1986
Fellowship
Henry Ford Hospital, Vascular Surgery, MI, 1993
University of Illinois GME, Vascular Surgery, IL, 1991
About Me
Biographical Statement
Timothy J. Nypaver M.D. is the D. Emerick and Eve Emerick Szilagyi chair in vascular surgery at Henry Ford Hospital, where he has been the head of the division of vascular surgery since 2016. Dr. Nypaver completed his general surgical residency at the University of Illinois department of surgery in 1990 and his vascular surgery fellowship at Henry Ford Hospital in 1993. He joined the faculty at Henry Ford Hospital in 1995, serving as the program director of the vascular surgery fellowship from 2008-2016, prior to being appointed chief of the vascular surgery service.
He maintains a busy tertiary and quaternary care vascular surgical practice at Henry Ford Hospital with an academic appointment at Wayne State University School of Medicine. He was recently recognized as a distinguished fellow in the Society for Vascular Surgery.
Titles
Head, Division of Vascular Surgery
D. Emerick and Eve Szilagyi Chair in Vascular Surgery
Director, Vascular Services, Henry Ford Heart & Vascular
Care Philosophy
I seek to provide expert comprehensive individualized care with a primary focus upon providing less-invasive means to repair complex vascular surgical conditions inclusive of abdominal and thoracic aortic aneurysm, lower extremity occlusive disease, mesenteric artery occlusive disease, and carotid artery disease. Using all available endovascular techniques, I specialize in the repair of these vascular conditions through minimally invasive operations performed through the inside of the arteries, allowing even the sickest of patients to undergo repair of these life-threatening or limb-threatening conditions.
Research Interests
Since 2008, Dr. Nypaver has been the director of endovascular services at Henry Ford Hospital, promoting and establishing the application of endovascular technologies to the management of:
Abdominal aortic aneurysm
Thoracic aortic aneurysm and dissection
Carotid artery disease
Lower extremity occlusive disease
His research interests include quality outcomes measures associated with endovasular procedures. Dr. Nypaver has published over 40 peer-reviewed publications.
Awards and Honors
Director, Endovascular Services, Division of Vascular Surgery
Physician Champion, Blue Cross Blue Shield Michigan Cardiovascular Consortium for the Henry Ford Health System
Examiner, Vascular Surgery Certifying Exam, Vascular Surgery Board of the American Board of Surgery
Member, Vascular Surgery Certifying Examination Writing Committee, Vascular Surgery Board, American Board of Surgery
President, Michigan Vascular Society
Top Docs (2009-2020)
Locations
2799 W Grand Blvd
Detroit,
MI
48202
19401 Hubbard Dr
Dearborn,
MI
48126
Henry Ford Hospital
Henry Ford West Bloomfield Hospital