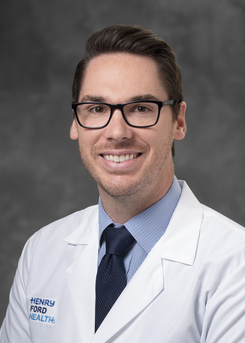 Alexander A Paridon, MD
Specialties: Gynecologic Oncology, Obstetrics & Gynecology
Board Certification and Education
Board Certifications
American Board of Obstetrics and Gynecology - Obstetrics & Gynecology
Education
Drexel University College of Medicine, PA, 2015
Residencies & Internships
Detroit Medical Center Corporation, Obstetrics & Gynecology, MI, 2019
Fellowship
Detroit Medical Center/Karmanos Cancer Institute, Gynecologic Oncology, MI, 2022
About Me
Biographical Statement
While originally from Texas, Dr. Paridon spent much of his childhood in southeast Michigan. He attended medical school in Philadelphia and it was there that he developed a special interest in women's health.
He returned to Michigan to complete both his residency and fellowship. His clinical areas of interest include uterine, ovarian, cervical, and vulvar cancer among others.
Dr. Paridon is a member of several professional societies including the American Medical Association, the American College of Obstetricians and Gynecologists, and the Society of Gynecologic Oncology.
Care Philosophy
"I believe quality care is derived from an open line of communication between patient and provider and I see each doctor-patient interaction as a partnership in which both parties contribute towards a common goal. In my case, the goal is to provide accurate and up to date information regarding each patient's condition to help them better understand their prognosis and make individualized treatment plans that are in line with their personal values."
Research Interests
During his fellowship, Dr. Paridon completed research examining the cellular pathways involved in ovarian cancer cell death.
Awards & Honors
Sidney F. Bottoms, MD Award for Excellence in Research 1st Place Oral Presentation Fellow Category (2021 - 2022)
John M. Malone Jr., MD Award for Excellence in Gynecologic Oncology (2018 - 2019)
Arthur G. Seski, MD Chair Award for Overall Excellence in Obstetrics and Gynecology as a Resident (2018 - 2019)
Locations
2800 W Grand Blvd
Detroit,
MI
48202
Henry Ford Wyandotte OB-GYN
3333 Biddle Ave
Wyandotte,
MI
48192
Henry Ford Hospital
Henry Ford Macomb Hospital - Clinton Township
Henry Ford West Bloomfield Hospital
Henry Ford Wyandotte Hospital