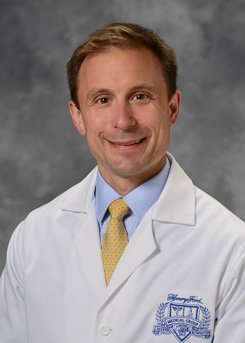 Andrew M Popoff, MD, FACS
Specialties: Thoracic Surgery, Surgery
Board Certification and Education
Board Certifications
American Board of Surgery - Surgery
American Board of Thoracic Surgery - Thoracic Surgery (Cardiothoracic Vascular Surgery)
Education
Rush University Rush Medical College, IL, 2009
Residencies & Internships
Rush University Medical Center, Surgery, IL, 2014
Fellowship
Rush University Medical Center, Thoracic/ Cardiovascular Surgery, IL, 2016
About Me
Biographical Statement:
Dr. Popoff's fellowship training in cardiothoracic surgery and practice focus primarily on benign and malignant diseases of the chest wall, mediastinum, lungs, pleura, airway, esophagus and foregut with an emphasis on minimally invasive approaches and thoracic oncology. "Minimally invasive thoracic surgery, such as VATS and robotics, typically means our patients' experience less post operative pain, earlier mobility and return to normal activity, and a shorter hospital stay without compromising the surgical results," he said.
As part of the Henry Ford Cancer Institute, Dr. Popoff works closely with colleagues in medical oncology, radiation oncology, and integrative services to develop a customized treatment plan focused on each patient's individual needs. "Comprehensive cancer care represents a paradigm shift in how we manage these diseases compared to even 10 years ago. With minimally invasive surgical techniques in thoracic oncology, combined with advances in both radiation and medical oncology, we have a state of the art complement of tools for each patient's unique condition," he said.
Dr. Popoff is published in the American Journal of Surgery, Journal of Gastrointestinal Surgery, and has pending work with The Annals of Thoracic Surgery and has co-authored two book chapters.
Locations
2800 W Grand Blvd
Detroit,
MI
48202
2799 W Grand Blvd
K14
Detroit,
MI
48202
Henry Ford Hospital
Henry Ford Macomb Hospital - Clinton Township
Henry Ford West Bloomfield Hospital
Henry Ford Wyandotte Hospital