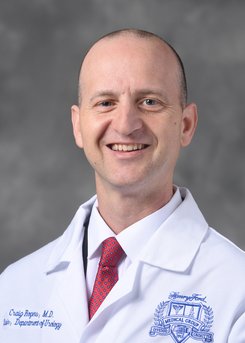 Craig G Rogers, MD
Services: Benign Prostatic Hyperplasia, Cancer Surgery , Enlarged Prostate , Kidney Cancer , Penile Cancer , Prostate Cancer , Testicular Cancer , Urologic Robotic Surgery , Urology , Video Visits , von Hippel Lindau (VHL) syndrome
Board Certification and Education
Board Certifications
American Board of Urology - Urology
Education
Stanford University School of Medicine, CA, 2000
Residencies & Internships
Johns Hopkins University School of Med., Urology, MD, 2005
Johns Hopkins University School of Med., General Surgery, MD, 2002
Fellowship
National Cancer Institute, Urologic Oncology, MD, 2007
About Me
I specialize in robotic surgery for kidney cancer, prostate cancer, adrenal tumors, testis cancer, penile cancer and bladder cancer. I also perform robotic surgery for blockages of the ureter, including robotic pyeloplasty for ureteropelvic junction obstruction and robotic ureteroplasty or ureteral reimplant for ureteral strictures.
Titles:
Director, Robotic Renal Surgery at Henry Ford Hospital
Director, Urologic Oncology at Henry Ford West Bloomfield Hospital
Program Director, Urology Clinical Research Fellowship
Program Director, Robotic Urology Fellowship
Medical Director, Vattikuti Urology Institute Center for Outcomes Research Analytics and Evaluation
Chair, Henry Ford Department of Urology
Care Philosophy:
I strive to provide exceptional care to all of my patients efficiently, effectively and compassionately. I feel that the patient should always come first. I provide my patients with accurate information about their condition to help them make goal.
Biographical Statement:
Dr. Rogers has trained at some of the top medical centers in the country and has learned alongside the pioneers of these techniques. He attended Stanford University School of Medicine and received his M.D. degree. He completed his urology residency at the Johns Hopkins Hospital followed by a urologic oncology fellowship in prostate and kidney cancer surgery at the National Cancer Institute.
Dr. Rogers performs both robotic and laparoscopic surgery to remove kidney tumors. Whenever possible, he uses robotic assistance to remove the tumor while saving the rest of the normal kidney in order to preserve kidney function. He also performs open surgery for kidney tumors that are not amenable to a minimally invasive approach. He also offers cryoablation for small kidney tumors in patients who are not candidates for surgical removal.
Research Interests:
His research focus is on improving robotic surgical techniques for kidney cancer and the identification and utilization of biomarkers and genes for the diagnosis, prognosis and treatment of kidney and prostate cancer.
Awards & Honors:
Dr. Rogers has published extensively on the subjects of minimally invasive surgery, robotic surgery, prostate cancer, kidney cancer and bladder cancer, with over 75 peer-reviewed publications. He was honored to be chosen to perform the first live robotic partial nephrectomy surgery at the American Urological Association National Meeting two years in a row. He performed the first live webcast of a robotic partial nephrectomy in 2007 and has performed live robotic kidney and prostate surgeries for audiences throughout the world. Dr. Rogers has spoken both nationally and internationally on topics including robotic kidney surgery and robotic prostatectomy and has been featured on CNN.
Featured on "Minds of Medicine" television documentary about robotic kidney surgery (2011, 2012, 2015)
"Best Doctors in America" and "America's Top Urologists" selection (2012, 2014)
"Top Doc" Hour Detroit Magazine peer-reviewed survey (2010 – 15)
Winner, World Congress of Endourology Video Contest (2010 – 15)
Performed first robotic partial nephrectomy with kidney cooling and early tumor evaluation (2010)
Performed first single-incision robotic nephrectomy in state of Michigan (2012)
Performed first live telecast of robotic partial nephrectomy at AUA meeting (2009)
Performed first live webcast of robotic partial nephrectomy (2008, 2009)
Performed first robotic retroperitoneal renal cryoablation procedure (2008)
Performed first "Twittered" robotic kidney surgery-featured on CNN and NPR (2008)
Languages
English, Japanese
Henry Ford Hospital
Henry Ford Jackson Hospital
Henry Ford Macomb Hospital - Clinton Township
Henry Ford West Bloomfield Hospital
Henry Ford Wyandotte Hospital