Anesthesiology Patient Safety and Other Resources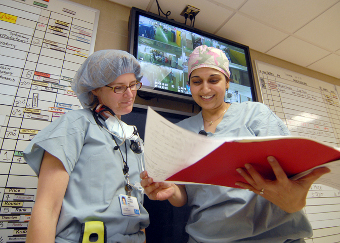 Henry Ford anesthesiologists in collaboration with other physicians, pharmacists, and nurses, as well as with other health care professionals, continually focus on patient safety and methods to improve the quality of patient care.
For example, the Department of Anesthesiology has long worked to reduce surgical-site infection rates as one means to improve patient safety and outcomes. These efforts, initiated many years ago, resulted in a 60% decrease of infections in high-risk procedures. The safety process for Henry Ford patients includes:
Anesthesiologist-administered antibiotics reliably within one hour before surgical incision.
Standing orders to discontinue antibiotics at 24 hours.
Removed all razors in the preoperative area and instituted use of clippers if hair removal was necessary.
Use of tight glucose control protocols in the operating room, recovery room, and throughout the entire hospital.
Use of a standardized protocol to select antibiotics to improve delivery of correct antibiotics.
Henry Ford anesthesiologists participate in national, regional, and local societies to continually advance the field of anesthesiology for improvement of patient care. These societies provide helpful patient information on the full range of anesthesia services: