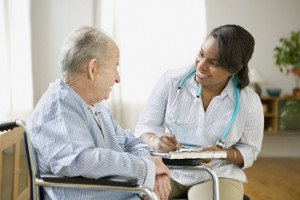 Henry Ford at Home works closely with patients who have COPD to help them achieve their goals of leading fuller and more-active lives. Our COPD Program is designed to help patients monitor their condition and provide tools to help manage their COPD. As part of the COPD program, patients receive home health nursing visits from Henry Ford Home Health Care with the option to add Henry Ford e-Home Care services, including telehealth monitoring. Henry Ford at Home also carries a full line of medical supplies and healthy living items through Henry Ford Health Products to support patients with COPD.
What to expect
Participation in the Henry Ford at Home COPD Program begins with an initial visit by a Home Health Care nurse within 48 hours of your doctor's referral. Nurses and/or therapists will make three to four visits per week for the first two weeks, and will gradually decrease frequency to prepare for discharge from Home Health Care.
A Home Health Care nurse will:
Make a list of your medications and communicate with your doctor to be sure that he/she knows what medications you are taking.
Help you make an appointment to see your doctor within one week of discharge.
Recommend products and services that can improve your ability to care for yourself.
Work with your doctor to adjust your Plan of Care to prevent you from feeling worse or going back into the hospital.
Assist you in getting any equipment that you will need to care for yourself after your home health care service has ended.
Your nurse/therapist will teach:
Signs and symptoms of respiratory distress
Name, purpose, dose and side effects of medications
Proper inhaler technique
Ways to prevent worsening of your COPD
Measures to improve your ability to breathe and use of a peak flow meter
When to report symptoms to your doctor or go to the emergency department
Risk factors relating to COPD and signs of disease progression
How to care for your equipment (e.g., oxygen, nebulizers, peak flow meter)
When to use your rescue medicine
How to exercise safely and conserve energy
How to make everyday tasks easier
Importance of early symptom control to prevent hospitalization
Your nurse/therapist will assess and monitor:
Your vital signs and breathing
Your understanding of your medications and disease
Safety factors in your home
Your activity levels
Your ability to be independent at home
The need for additional disciplines to help you, such as a medical social worker or a home health aide.