Become a volunteer at the Henry Ford Cancer Institute
Henry Ford Cancer Institute volunteers offer guidance for visitors, comfort for patients and support for family members and caregivers. Whether you're exploring healthcare careers or just looking for an opportunity to give back, there's a volunteer role for you at the Henry Ford Cancer Institute!
Become a Henry Ford Cancer Institute volunteer and join our team to provide empathetic and exceptional care to cancer patients and their families.
Volunteer requirements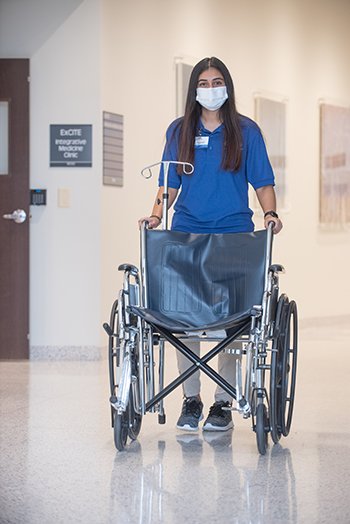 To ensure the safety and wellbeing of our patients, volunteers and staff, all volunteers must:
Commit to a regular weekly 3-4-hour shift and a minimum of 60 hours of service
Complete an interview, orientation and job-specific training
Consent to a criminal background check
Complete a health screening, including TB testing and confirmation of up-to-date vaccination and immunization. All Henry Ford Health volunteers are required to be fully vaccinated for COVID-19 prior to volunteering.
Receive an annual flu vaccination
Be 15 years old or older. Volunteers 17 and younger must have parent consent.
The Henry Ford Cancer Institute is not able to accommodate court ordered community service, one-time volunteering, shadowing, and observation requests.
How to get started
Ready to join the Henry Ford Cancer Institute volunteer team? Complete the form below and a member of our volunteer engagement team will contact you to provide more information about volunteer opportunities.
Questions: Contact Henry Ford Cancer Institute Volunteer Engagement by calling (313) 556-8738 or emailing [email protected].
Patient advisor opportunities
Patients and families also can volunteer their time as a patient advisor. Patient advisors share their healthcare knowledge and experiences to help improve care for current and future patients at Henry Ford.
Some cancer types have specific patient advisory groups, such as the Head and Neck Cancer Patient Advisory Group. This group meets once a month to:
Advise our head and neck cancer team
Improve the patient experience
Learn more about head and neck cancers
Mentor other patients
Based on your interests and level of commitment, there are many different opportunities to get involved with our Patient Advisory Program. Learn more about our Patient Advisory Program and find out more about the role of a patient advisory by reading our Patient Advisor FAQs.